Stuart Pearce trusts Uefa on Serbia brawl verdict
Last updated on .From the section Football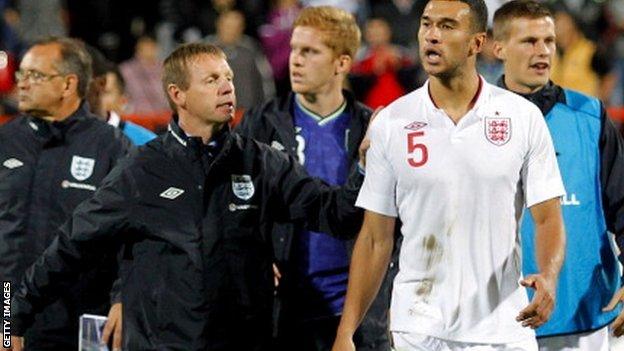 England Under-21 coach Stuart Pearce will have faith in Uefa's judgment when last month's brawl between his side and Serbia is dealt with on 22 November.
Pearce said: "I trust Uefa to make the right and proper decision on what they have seen - on video evidence and with their assessors having being at the game, what they heard and saw.
"Whatever my internal thoughts are is a little bit irrelevant."
Trouble flared in Krusevac after Pearce's U21 side completed a 2-0 aggregate victory over their Serbian counterparts to secure qualification for next year's European Under-21 Championships in Israel.
Both football associations have been charged over their players' behaviour, with the Serbian FA (FSS) also charged over alleged racist chanting by their fans.
The FSS has already suspended two Serbia players, Nikola Ninkovic and Ognjen Mudrinski, from playing for their country for a year, while coaches Srdjan Maksimovic and Andreja Milutinovic were given two-year bans.
Then, Serbian police handed criminal charges to 11 people - including England players Steven Caulker and Tom Lees, and assistant coach Steve Wigley.
European football's governing body's control and disciplinary body will convene on 22 November to deal with the case.
"As far as we are concerned, I try to educate the players, and all of my staff do, in terms of the way to behave and what might be ahead of them in certain games, and I think they handled themselves fantastically well," added Pearce.
"If we had got beaten in the game, that would have been the devastation.
"If we had lost our focus because of what was going on, and ended up getting beaten in the game and going out of the tournament, that would have been the one thing that hurt most for me."