Roberto Mancini committed to Man City - Patrick Vieira
Last updated on .From the section Football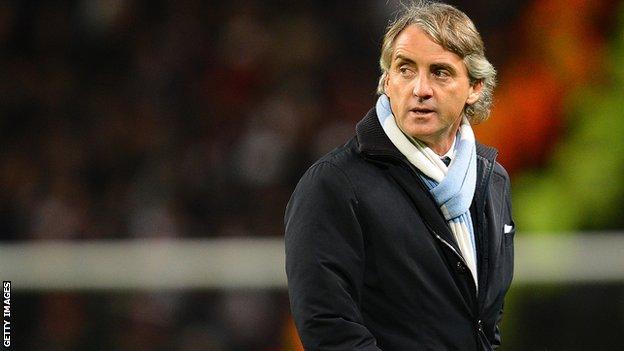 Patrick Vieira wants Roberto Mancini to remain as Manchester City manager and bring more silverware to the club.
Mancini after guiding City to the Premier League title, but there has been speculation about his future.
Vieira, City's football development officer, said: "He signed a five-year contract and that shows the commitment between himself and the club.
"I hope [he stays] because stability brings success to any football club."
Mancini, 47, is Manchester City's most successful modern-day manager, leading the club to their first league title in 44 years in May, 12 months after ending a 35-year trophy drought with an FA Cup final victory over Stoke.
But earlier this month, he revealed that he was claiming he had a number of opportunities to join other clubs before committing his future to City.
Although Mancini's side are just two points behind leaders Manchester United in the Premier League table, a has left Mancini's position under scrutiny.
But speaking at the North West Football Awards, where Mancini was named Manager of the Year, Vieira said the speculation is purely as a result of the club's success.
"That is a part of the game," Vieira told BBC Radio Manchester. "You people, the journalists, try to find the little things that will sell more papers or get more people listening to the news. We accept it, no problem at all.
"Since he [Mancini] has been at this football club, his record has been fantastic. You don't win the FA Cup or the Premier League with an average manager. You have to be good.
"Everybody says we have a good team, but you have to manage 25 players. A lot of credit must go to Mancini because he has worked hard to bring silverware to the football club."
City have yet to win in the Champions League this season and lie bottom of their group with an extremely slim chance of reaching the knockout stages.
"Of course we didn't help ourselves and do ourselves any favours, but the door is not completely closed," added former France international Vieira. "It is going to be difficult and not many people believe we can go through, but we have to believe.
"The Champions League is a different level and it's new for us. We're learning and I believe we're going to get better, but it will take time."