Cheltenham chairman Paul Baker rues falling attendances
Last updated on .From the section Football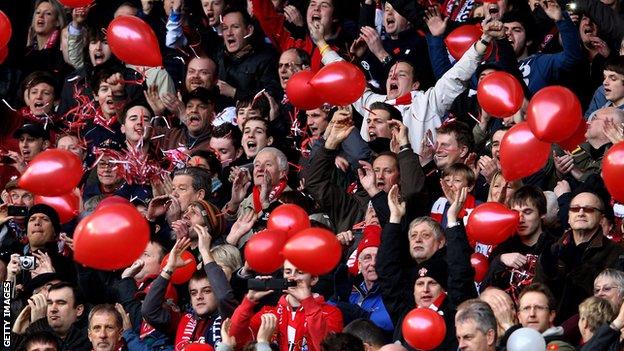 Chairman Paul Baker says Cheltenham Town's attendance figures have fallen because the "novelty" of being a Football League team has worn off.
This season's average League Two gate of 2,869 is 1,277 less than the 1999-2000 campaign - their first year out of non-league football.
"When we got in the League there was euphoria and the crowds were superb," Baker told BBC Gloucestershire.
"Gradually, as the club has established itself, the novelty has warn off."
Cheltenham have spent the last four seasons in League Two - having battled relegation in 2009-10 and 2010-11 they reached the play-off final last term and currently sit third in the table.
And despite their revival under the leadership of former Robins captain Mark Yates, crowds have continued to dwindle at Whaddon Road and they now have the ninth lowest average attendance in the division.
"We've built up a core home support of 2,500 but we want to get it up. Every person that comes in adds £11 net to our playing budget," continued Baker.
"We used to think it was just about winning - if we are winning people will come - but it's not just about that.
"We're trying to get out in to the town a lot more, but ultimately we've got to make sure they have a good matchday experience.
"I'm not sure it's about price. A few years ago we slashed our prices for a midweek game and got our lowest ever crowd."
Although they are once again targeting promotion this term, Baker says a run in the FA Cup will help recoup some of the money which has been lost as a result of lower attendances.
Cheltenham earned £18,000 in prize money by beating non-league Yate Town in the first round of the competition, and a win against Hereford in the next round will net them a further £27,000.
"The FA Cup is so critical to us and all Football League clubs. It's the one opportunity in the season to make some money, apart from the play-off final," added Baker.
"It's not all about promotion. Clearly we want to be promoted but it is sometimes a struggle to maintain that League One status.
"Fans like to see a winning club so arguably it's better to be winning games and being in the top three of League Two rather than being in the bottom three or four of League One.
"The trick is to get promoted and not be in the bottom three or four.
"But make no mistake - I want to be in League One. We're ambitious and if we can keep this team together we'll have a good shout."