Time for Liverpool to start winning

By Phil McNulty
Chief football writer, BBC Sport
Last updated on .From the section Football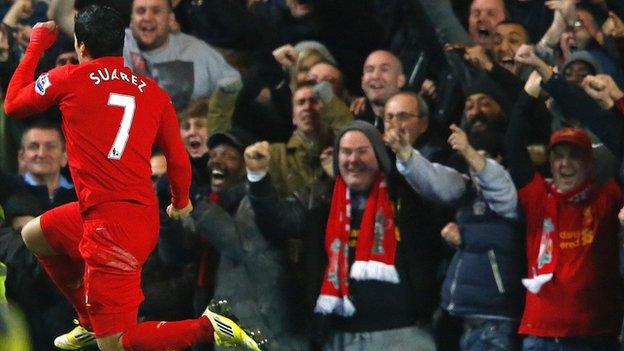 Brendan Rodgers insists Liverpool must no longer look in the rear view mirror - but admits the road ahead to restoration may be a long one.
In among the cascade of optimistic messages that have epitomised Rodgers's short time at Anfield, the cold chill of Liverpool's current status came in one statement from the manager after the 1-1 draw at Chelsea.
"The club finished eighth last season. If we can improve on that if would be fantastic for us. That is the reality of where Liverpool is I'm afraid," said Rodgers.
This counts as expectation management on a grand scale. It is a long time since the prospect of finishing seventh would be regarded as "fantastic" at Anfield but Rodgers clearly feels this is the context in which he is working after succeeding sacked Kenny Dalglish.
Rodgers has spent much of his time praising Liverpool's players for their efforts this season and not enough time discussing victories. It is hard to paint a pretty picture of a league start that currently only contains wins over Norwich City and Reading but he tried nonetheless.
And if he was to take a backward glance over his shoulder he would see that the current Premier League placing of 13th with 12 points from 11 games is three points worse than the same position under Roy Hodgson in 2010/2011 as he was on the road to effectively being run out of town by disaffected Liverpool supporters.
No-one would suggest for a moment that a similar fate will befall Rodgers. He is barely through the door and admitted Liverpool fans had been "lenient". There is genuine support for him from Liverpool's followers.
This must not disguise another reality. This points tally is not good enough for a club of Liverpool's ambition, even if Rodgers appeared to be scaling this back at Stamford Bridge. Eventually Rodgers must start winning.
Much has been made of his passing "philosophy" - although anyone could tell you this has been in the club's DNA since Bill Shankly arrived in December 1959 and not something Rodgers brought in the boot of his car as some great secret on the journey up from Swansea - and the only philosophy that actually matters is the one that wins matches.
Rodgers insists signs of development can be seen in Liverpool's side and he has a point. He is working with a squad in reduced circumstances and despite this they have proved difficult to beat. Their last two away league fixtures have brought creditable draws at Everton and on Sunday at Chelsea. Few will pick up even single points easily at either place this season.
Rodgers was also on the mark to underscore Liverpool's "great character, resilience and survival instincts" but eventually there must be more than possession coupled with a reliance on the cunning and brilliance of striker Luis Suarez. This is his top priority.
He can be well pleased with the eventual outcome at Stamford Bridge after Suarez - who else? - scored the goal to earn a draw that looked most unlikely for more than an hour. Liverpool, so poor for the first 45 minutes, even ended the game emboldened and looking for a fourth successive win at Chelsea.
Rodgers was in candid mood as he said: "The reality is we are a long way off winning the league. I'm not going to sit here and say we are up there challenging."
He added: "The club has given me brilliant support since I have come in here. The owners have brought me in and given me great security in terms of the plan going forward."
The task facing Rodgers is turning draws into victories - but for now he is very grateful to have a player of Suarez's class to turn potential defeats into draws, as he has done in the last week against Newcastle United and Chelsea.
Rodgers has shown a commendable desire to inject young blood into Liverpool's side and there is no doubt he received the rough end of the deal in August when the Anfield hierarchy showed no appetite for his desire to buy Clint Dempsey from Fulham and left him desperately short of a striker after Andy Carroll was loaned to West Ham.
But his own buy, Fabio Borini, was looking decidedly underwhelming at a reported £11m before injury, so Rodgers will need to spend wisely in January. "You need materials," said Rodgers. "Hopefully we can add one or two in January to help us in the top half of the field to try and turn draws into wins."
Much depends on his success in that period but for now he can take a measure of satisfaction from a draw at Chelsea, although this should be tempered by the knowledge that if Oscar and Juan Mata had matched finishing to the expertise of their approach play this game might have been over inside an hour.
John Terry gave Chelsea the lead before going off on a stretcher with a knee injury following an accidental collision with Suarez, who was once more Liverpool's talisman with the equaliser, albeit courtesy of a less-than-subtle shove on Ramires that was missed by referee Howard Webb.
Liverpool had stand-out performers in defender Jose Enrique and goalkeeper Brad Jones but in reality - that word again - it was Suarez alone who won them a point.
Rodgers is in the first flush of his infant Liverpool reign and no-one can carp at a point gained at Stamford Bridge but soon he must find the winning habit.