Scotland: Billy Stark a 'potential candidate' as national coach
Last updated on .From the section Football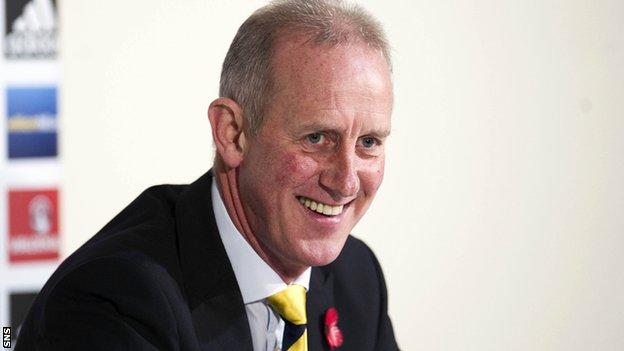 Scottish FA chief executive Stewart Regan says Billy Stark is one of a number of candidates in contention to become the permanent national coach.
Stark was appointed as interim boss after the sacking of Craig Levein.
He will lead the side in Wednesday's friendly international in Luxembourg.
"I think depending on how Billy performs and on his own views then clearly we would keep the door open for any potential candidates at this stage," said Regan.
"I think, in this case, it's even more important that he has an opportunity to work with the players.
"He has brought in a number of new faces, a number of young players who he's worked with before in the under-21 squad, and it's a great chance to see how those players can gel together."
"Billy has a great opportunity to show what he can do. He's a great guy. He's been very committed to the under-21's.
"He's agreed to take this position on on an interim basis until the board have decided on the next step and that's very much where we are in the process."
Stark stressed he was simply concentrating on the friendly at Stade Josy Barthel.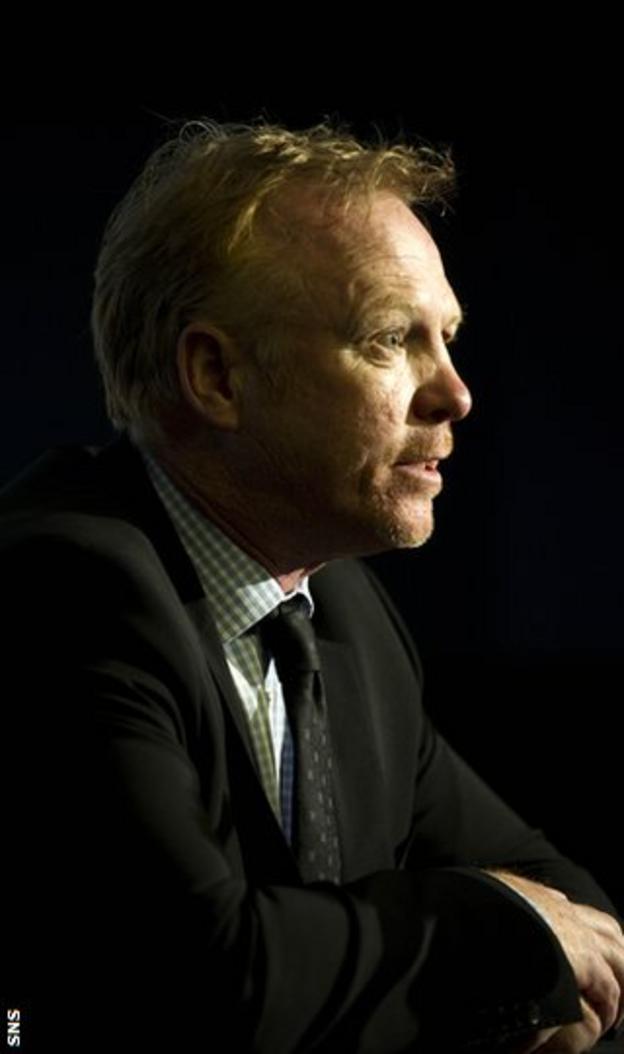 "The way I view it is that I am honoured and privileged to be asked to take the team," he said.
"I think the main aim, in a general sense, is for the players to produce a good performance and result and I am not looking any further forward than that.
"I enjoy the aspects of international football that I've had in the last number of years.
"As I've said to the players, we want to make it a positive experience and the only way we'll make it a positive experience is to get a good performance and result."
Former Celtic manager Gordon Strachan remains the bookmakers' favourite to become the successor to Levein, who was sacked last Monday after a poor start to the World Cup qualifying campaign.
Fellow former Scotland international Joe Jordan, the former Tottenham Hotspur coach, has also been given the backing of potential candidates Graeme Souness and Harry Redknapp.
Alex McLeish says Stark is one of numerous strong candidates, including his fellow former Rangers and Scotland manager, Walter Smith, who this week accepted a directorial position at Ibrox.
"Gordon fits the bill," said McLeish. "People were saying I recommended Joe Jordan the other day, but I mentioned him in the same breath as Gordon.
"I don't know what Walter's feeling is on it, but these are all guys who have definitely got the stature to handle that job.
"I don't know if Billy wants the job. I'm sure, if he was asked, it would be a different story.
"I'm not so sure Billy would put himself forward for the job. But, again, another good candidate.
"I brought Billy into the international set-up knowing what a great coach he was."
While not ruling himself out of the running for the national job, McLeish's personal preference remains a return to club football after leaving Aston Villa in the summer.
"It's not something I'm actively pursuing," he added. "I feel I've got unfinished business in club football and I still harbour the day-to-day involvement."