MK Dons and AFC Wimbledon gear up for first meeting
Last updated on .From the section Football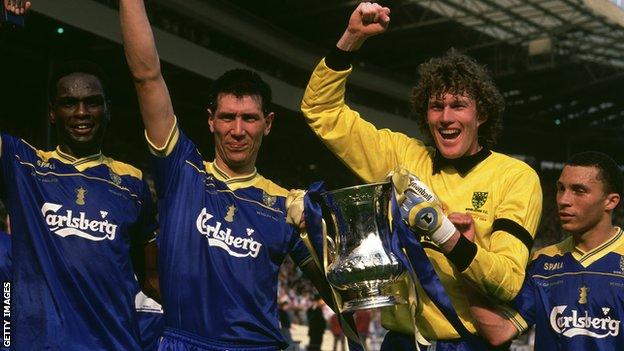 It is the only FA Cup second-round tie where the agenda and focus is not dominated by the prospect of a trip to Old Trafford or Emirates Stadium.
Nine years after Wimbledon were moved 56 miles north to Milton Keynes, and eventually renamed MK Dons, and a decade after AFC Wimbledon were established in the ninth tier of English football by disenfranchised fans, the two clubs, now just a division apart, will meet for the first time.
AFC Wimbledon did their bit by beating York 4-3 in their replay, MK Dons found their way past Cambridge City with a 6-1 win on Tuesday night.
After the draw was made MK Dons chairman Pete Winkelman described it as a "potentially fantastic tie" and manager Karl Robinson said he danced around his living room in celebration at the possibility of the tie at Stadium MK.
They are not sentiments shared by Wimbledon Independent Supporters' Association chairman Simon Wheeler.
"I won't be going because I vowed never to set foot there," Wheeler said.
"Emotions would be far too raw and I won't give any income to that football club so I'll watch at Kingsmeadow or go to a garden centre or something.
"It's a very difficult fixture to think about. I don't see it as a big passionate football match or a rivalry, which the media want to build it up as.
"Our football club was ripped out of my community against the wishes of Wimbledon fans. I have zero excitement and I don't think it's a fixture that should ever have happened."
It is able to take place because Wimbledon were granted permission to move to Milton Keynes by an independent commission in 2002.
After being elected to the Football League in 1977, Wimbledon were promoted to the top flight only nine years later and won the FA Cup with a shock victory over Liverpool in 1988.
They left their Plough Lane home to share with Crystal Palace at Selhurst Park in 1991 after the publication of the Taylor Report, which recommended that all top-flight sides should play in all-seater stadiums.
Despite being at a temporary home average crowds built up from around 8,000 in the late 1980s to a high of more than 18,000 in the year before their relegation in 2000.
Chairman Charles Koppel announced the intention to move to Milton Keynes in 2001 and crowds fell away. Matches were boycotted by a large section of fans, with only 1,054 seeing them lose 4-2 to Wigan in their final game at Selhurst Park.
By the time Wimbledon, who were renamed Milton Keynes Dons for the start of the 2004-05 season, played their first home match at the National Hockey Stadium in September 2003, 'phoenix club' AFC had been up and running for more than a year.
While MK Dons gave up their claim to the pre-2004 history in 2007, some, including Wheeler's WISA, are campaigning for them to drop "Dons" from their name.
The Dons played their first game at Stadium MK in 2007 and AFC, playing at Kingsmeadow in Kingston, returned to the Football League in 2011 and hope to return to Plough Lane.
The acrimony lingers to the extent that a former Wimbledon fan who now supports MK Dons preferred not to be named when discussing the forthcoming match.
"We've got to play them sometime. It's a fact of life," he said.
"You come up against teams you might not like to play but this is about the football and I just hope there's no silliness from either set of fans.
"The fans deserted the club over the years after the move to Selhurst Park and it was only visiting fans from clubs like Manchester United that were keeping it alive.
"Like Millwall, the MK Dons fans sing 'no-one likes us we don't care' and there was a time when they were asking clubs not to play friendlies against us but since the trophies were handed back to Merton council things have got a bit easier.
"I am looking forward to the game but it's just a game of football - someone will win, someone will lose - and we've got to move on."
After his team's victory on Tuesday, manager Robinson reaffirmed how much he is looking forward to the second-round tie.
"I think it had to happen. It was inevitable at some stage - we enter three cups together," said Robinson.
"It's something the football world has been waiting for. Certain people don't agree with it and I respect that.
"I have the utmost respect but it will be a special day. Somebody told me it's the biggest second-round draw in FA Cup history and if that's the case we can't wait for it."
MK Dons chairman Winkelman did not want to discuss the prospect of facing AFC before Tuesday night's replay with Cambridge City.
And AFC were similarly keen to take the heat out of the build-up.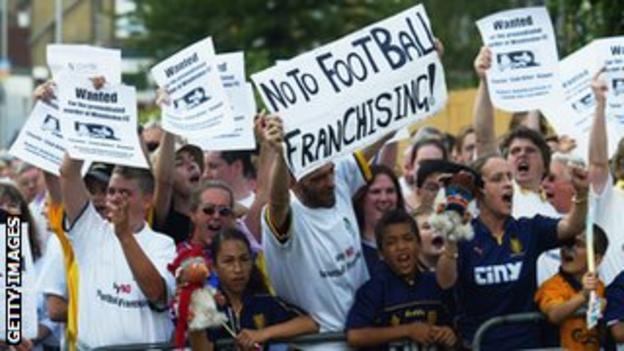 "There is an understandable neutral and media interest because a lot of people have been waiting for this and from our point of view we just don't want to over energise things," AFC chief executive Erik Samuelson said.
"It's going to be played and we would love to win like we would love to win every game.
"We don't measure our progress against them or anyone else. This is our 11th season and our second season in the Football League.
"I was clearing out some old files the other day and found a five-year plan from the first season and we assumed promotion every other year. It never occurred to us that we wouldn't succeed.
"We didn't expect it but always believed we would do what the old Wimbledon did and we have.
"Now all we need to do is get a new stadium and we will be back to where we were."
It is a tale of 56 miles that has spanned a decade and the latest chapter will be written in the second round of the FA Cup.