Hearts strike deal to extend deadline for unpaid tax bill
Last updated on .From the section Football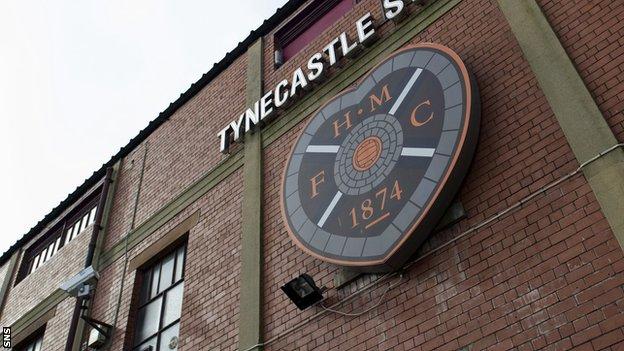 Hearts have agreed an extension with Her Majesty's Revenue and Customs that will allow the club further time to pay an outstanding tax bill.
The arrangement allows Hearts to pay the £450,000 bill in two instalments and lifts the immediate threat of closure facing the club.
Members of the Hearts first team have agreed to defer their November salaries to a later date.
Hearts had received a winding-up petition last Wednesday.
The deadline was this Friday, but a new settlement date of 3 December has been set, providing tax for November and December is paid on time.
Their agreement also ensures that this weekend's game against St Mirren will not be the club's last.
It also eases doubts over future Tynecastle fixtures, including games against Celtic on 28 November and Aberdeen on 8 December.
A number of senior first-team members, who were due to be paid on Friday, have deferred their November salaries in order to help ease the club's cashflow problems.
Supporters' groups have undertaken a number of fundraising activities while the club has launched a share issue.
Hearts director Sergejus Fedotovas told his club website: "Make no mistake, the fans and players have been instrumental in achieving this extension with HMRC.
"The supporters' efforts have been quite phenomenal.
"However, it is essential that they continue all their work to assist us in meeting financial targets at the club.
"It is imperative that they continue with this level of backing in the weeks ahead until the Share Issue closes on 19 December.
"We have a lot of hard work ahead of us in order to fully rectify our financial position.
"But, with further backing and ongoing fundraising by supporters, we know that we have a very positive opportunity to create a strong club for the future."
The Scottish Government released a statement welcoming the agreement.
"We are pleased that an agreement has been reached between Hearts FC and HMRC which allows the club to continue in business while also meeting its obligations to the tax authorities," the statement read.
"Tonight's news will come as a relief to all fans of Hearts, but there clearly remain ongoing financial issues across Scottish football and the Scottish Government remains ready to assist wherever it can in promoting initiatives such as open book accounting and more supporter involvement in the running of clubs."