Karl Robinson says MK Dons-AFC Wimbledon tie was inevitable
By Chris Osborne
BBC East Sport at Stadium MK
Last updated on .From the section Football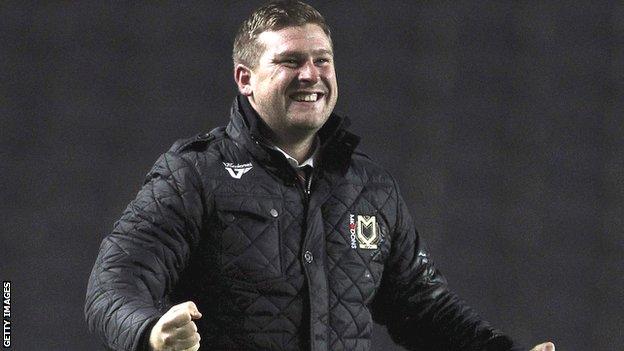 MK Dons boss Karl Robinson has said a meeting between his side and AFC Wimbledon in the FA Cup will evoke bad memories for some supporters, but insists the game was an inevitability.
"I think it had to happen. It was inevitable at some stage - we enter three cups together," added Robinson.
"It's happened now and I'm looking forward to it."
The two sides have never met since AFC were formed 10 years ago in response to Wimbledon's move to Milton Keynes.
"People will have grievances and anger and the new generation will have excitement," said Robinson after his team's 6-1 replay win over Cambridge City.
"It's something the football world has been waiting for. Certain people don't agree with it and I respect that."
Milton Keynes and Wimbledon will meet on the weekend of 1 December in the standout tie of the second round.
Anger still exists among AFC supporters, who saw their old team uprooted and moved 56 miles away when a Football Association-appointed commission allowed a consortium, led by MK chairman Pete Winkelman, to base the club in Buckinghamshire.
Some AFC fans have said they will boycott the game at Stadium MK in protest at the existence of Robinson's team.
"I have the utmost respect but it will be a special day," said Robinson. "Somebody told me it's the biggest second-round draw in FA Cup history and if that's the case we can't wait for it."
Robinson, 32, caused a stir when he said he had "danced around the living room" after the draw was made.
Both clubs had to win replays before the tie was confirmed - Wimbledon beating York 4-3 on Monday - but Robinson said he had not attempted to be controversial.
"I said I danced around the living room. People took offence to that, but there was none intended," he said.
"It was purely that I was so excited by the tie. I also got excited when we played Blackburn and Sunderland.
"When you get good draws in the FA Cup you get very excited about it. It's about how we conduct ourselves now.
"The greatest cup competition in the world has produced a historic moment in round two. I can't wait."