Ex-Bristol City chairman Colin Sexstone joins Plymouth Argyle
By Brent Pilnick
BBC South West Sport
Last updated on .From the section Football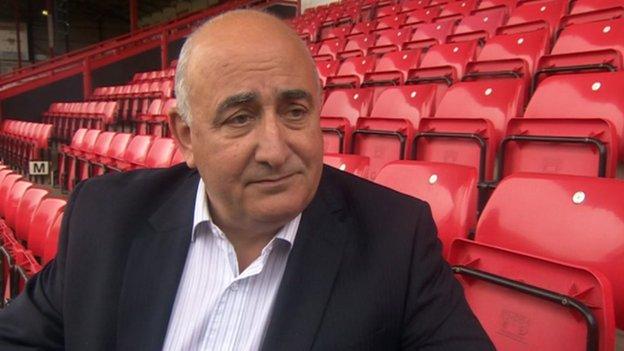 New Plymouth Argyle director Colin Sexstone could be a potential future chairman of the club, according to owner James Brent.
The former Bristol City chairman has joined the Argyle board as a non-executive director.
"I haven't discussed the chairmanship with Colin at this stage because it wouldn't be appropriate," Brent said.
"When we get to that point, it may be that he's willing to put his hat in the ring," he told BBC South West Sport.
"Clearly if he decided to do so then the board would have had experience of Colin and Colin would have had experience of the board, so it probably would be helpful at that point," Brent added.
But when asked by BBC South West Sport if he would consider becoming chairman, Sexstone said it was something he had not contemplated.
"That's not been discussed, I'm coming in to help as non-executive director on the board.
"We'll wait and see what else might happen, but that hasn't been discussed and that's one for the future.
"James is chairman, and that's good news because he's an excellent man and let's see how things go over the coming months."
Sexton, 64, after joining them from Gloucestershire County Cricket club in 2001.
He was at the helm at Bristol City as they won promotion to the Championship in 2007 and lost the play-off final for a place in the Premier League in 2008.
"We've recognised since we put the board together that we are relatively light on football expertise," Brent said.
"I was looking for someone who had the expertise that we're looking for and is a good cultural fit with what we're trying to do.
"We didn't want someone who was very good at the football side but had aspirations that were very inconsistent with the board and someone who didn't want to build a community football club.
"He's got some very bright ideas that he's already been raising with us and I have every confidence he will challenge us, advise us and council us to improve things quite materially."
Sexstone says he hopes to use his experience at Bristol City to revive Argyle's fortunes.
They are currently 19th in League Two after a difficult period in the club's history.
Argyle after relegation from the Championship in 2010 and dropped down to League Two the following season.
They avoided a third-successive relegation last season but were
"I've been involved directly in a football club for 11-and-a-half years and have really enjoyed it," Sexstone said.
"I have a lot of contacts around the game in both the boardrooms and management structure.
"It'll be nothing like a full-time role, but I hope I'll be able to advise, council and introduce people to the club.
"You need to build up your season tickets, I'm a strong believer in that bedrock of a club and I think Plymouth have a really good start there with a very loyal and firm fan base.
"They need to get into the community to get many youngsters coming through the club so they have the bread-corn of the future and there are other income streams like advertising and hospitality.
"The Championship is the minimum they should be looking at, but it's how you get there and the groundwork you put in place that will be the important thing," he added.