Yorkston seeks independent body for football shake-up
Last updated on .From the section Football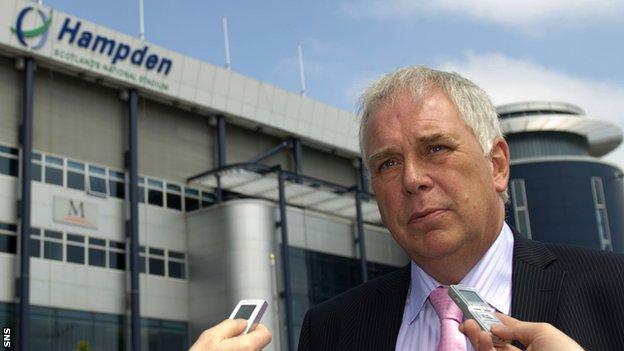 Dunfermline chairman John Yorkston has called for an independent body to lead league reconstruction in Scottish football.
The Scottish Football League are discussing proposals that would see a change from four leagues to three.
Any reform would require the backing of SPL clubs, who have so far failed to approve any plans.
"It may be that we need an outside committee to make the recommendations," said Yorkston.
The proposed reconstruction would see a top tier of 18 clubs, a second tier of 10 clubs and a bottom tier of eight.
But under current SPL rules, member clubs would have to vote 11-1 in favour to allow any changes to be implemented.
"If they (SPL) don't agree to it then nothing is going to happen."
"Maybe that decision has to be taken away from the clubs. Maybe the SFA have got to come out and say 'this is where we're going boys. If you want to be part of football in Scotland that's it.' "
"It's the only way I see us getting movement."
Yorkston, who will step down from his role at East End Park at the end of the season, says swift action is needed to safeguard the future of the Scottish game.
"I don't think we'll ever come up with a proposal that everybody will be happy with, but these talks are a start and it's what we need."
"I think we just need one governing body. Whether folk will be prepared to give up their bits is debatable."
"Every club has got their own agenda but hopefully we can get together and work something out for the common good."
"I don't think there's a solution that everyone will sign up to 100%."
"You've got to do what's best for Scottish football. Whether the people in the room today and the SPL are capable of doing it, who knows?"
Former First Minister Henry McLeish published a report two years ago with recommendations for the future of the game, but so far little action has been taken to overhaul the current set-up.
"We had the McLeish report a few years ago. We could get him back in and say 'this is it'."
"I don't think we're going to get anywhere with various and various factions."