Jersey's Jodie Botterill hopes to give St John league boost
Last updated on .From the section Football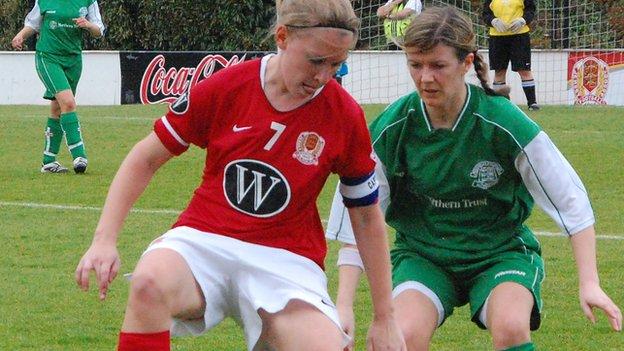 Jersey's first professional female footballer Jodie Botterill hopes to get clearance to play for St John again in time for their first league match of the season.
Botterill's contract with Finland Premier League side Aland United has come to an end.
The Wales international netted five times during the season but has since returned to Jersey.
"I don't have a contract to go back to," she told BBC Radio Jersey.
"Even when I was away in Aland I still thought of myself as being part of the St John team.
"I've got my transfer going through international clearance at the moment."
St John have dominated women's football on the island in recent years but failed to make the final of the Zenith Cup earlier in November.
They take on First Tower United in the league on Sunday at La Hague.
"They [St John] have had a bit of bad luck at the start of the season so I'm hoping to come back and do as much as I can to help them get back to winning ways.
"There are players who've had to have operations, players having babies, and at times they've struggled to field 11 players.
"The league starts this weekend for us and if I can play then I'll be doing everything I can to make sure we do keep the league trophy at St John."
Botterill made her debut for Wales against North Korea in July.
She qualifies to play for the national side through her grandmother and has been called up to a training camp in the Netherlands next week ahead of an international friendly there.
"They take big squads and there's only one game," said the 27-year-old.
"I just want to get the experience of being there training, prove what I can do in the training sessions and then hopefully do enough to get some game time towards the end of the week.
"Long term I'm not even thinking past next week to be honest, I just want to train hard, get over to Holland and show what I can do."