Tranmere flying high under 'hero' Ronnie Moore

By Steve Wilson
BBC Match of the Day commentator
Last updated on .From the section Football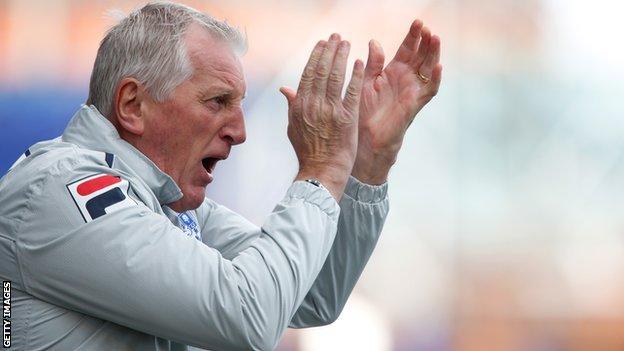 You will have heard a lot made of the fact the Premier League table can start to be taken seriously now that more than 10 games of the season have been played.
of who might achieve what in the months ahead. No surprise, then, to see Manchester United, Manchester City and Chelsea leading the way in the Premier League.
So what about in League One, where the clubs have now played 17 games - more than a third of their longer season?
Hands up who thought Tranmere Rovers would be five points clear at the top? Nobody? Thought so.
If you had assembled Tranmere's board of directors, coaching staff, players and most of their die-hard fans and asked them for a show of hands on the same question back in July, you would probably have struggled to get so much as a twitchy finger pointing to the skies.
Whilst Rovers' finishing position in the last three seasons (19th, 17th, 12th) suggested a slow but steady improvement, nobody could have predicted their amazing assault on the League One table. All this has been done without the benefit of any new money to add to one of the smallest budgets in their division.
The man who deserves all the credit for this transformation is Ronnie Moore, now in his third spell as manager at Prenton Park to add to his two spells there as a player.
Under Moore Rovers are playing very watchable football and have scored 35 goals in 17 league fixtures, while conceding just 14, giving them comfortably the best goal difference in the division.
The manager must be given huge credit for the hard work he has done in bringing important signings to the club.
For example, striker Jake Cassidy is on loan from Wolves and is currently the top scorer in League One with 10 goals so far.
The club are fortunate that Moore agreed to return in March at all. After all, Moore had been rewarded for leading Tranmere to their highest finish in four years (seventh) back in 2009 with the sack.
He was replaced, calamitously, by John Barnes; the former Liverpool winger lasted 14 games, of which Tranmere won three and lost 10. Barnes was then replaced by long-serving club physio Les Parry - who deserves great credit for restoring some stability.
This is a big week for Tranmere with two televised games; the first was and the second is Friday night's home league game with MK Dons.
That's a big deal for a Tranmere fan who struggles to see his team too often - what with living not far from the South Coast and working every weekend (damn that Match of the Day rota!).
Ronnie Moore was my first football hero. Moore had just turned 22, and I was seven, when I went to my first ever football match: Tranmere Rovers against Grimsby in January 1975. Back then he was a centre half in a Tranmere side which include Steve Coppell, but soon manager Johnny King saw his potential as a centre forward.
The following season Moore was battling to be the country's leading goalscorer. For weeks I tracked his progress alongside that of his main rival, Hereford's Dixie McNeill. I used to watch matches at Prenton Park with my Dad and brother, secretly praying under my breath that a) Tranmere would win b) Ronnie would score and c) McNeill wouldn't against whoever Hereford were playing. A McNeill hat-trick on the final day of the season taking him level with Moore's 37 probably knocked religion out of me.
Eventually Ronnie moved on and he is fondly remembered by Rotherham fans for his goals at Millmoor, where he also had two spells as manager.
I doubt that he has ever made a fortune out of football, I very much doubt that he will ever get a job at a much bigger club - too many chairman are seduced by so-called big names - but I would dearly, dearly love to see Moore take Tranmere back into the second tier of English football. I can almost feel a prayer coming on ….