MK Dons v AFC Wimbledon: Winkelman 'not proud' of origin
Last updated on .From the section Football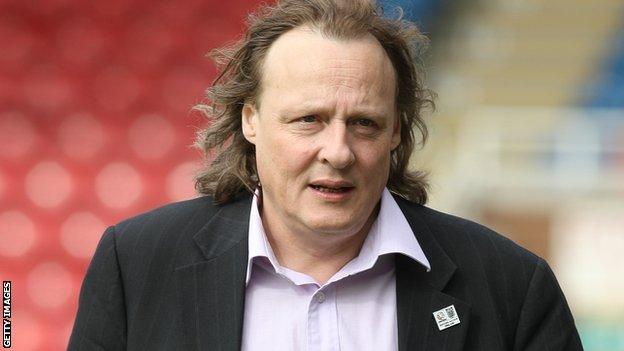 MK Dons chairman Pete Winkelman says he is not proud of uprooting Wimbledon and admits it was a "bad decision".
The history of MK's conception has come under the spotlight once again after they were drawn to face breakaway club AFC Wimbledon in the FA Cup.
It has been 10 years since the process of moving Wimbledon to Milton Keynes began and fans set up AFC in response.
"I'm not proud of the way this club came into being," Winkelman told BBC Three Counties Radio.
"It's very hard for me to live with that. It's possibly a little bit more personal for me than anyone else."
Winkelman was involved in their move to Milton Keynes and led a consortium that bought Wimbledon from Norwegian owners in 2004, one year after the move.
The move angered Wimbledon fans and was opposed by the Football Association, but was given the go-ahead by an independent panel.
Winkelman has faced criticism from not only AFC fans but football supporters in general for taking a club from their home.
But he has claimed Wimbledon, who were in administration when he completed his takeover, would have died had the move not happened.
"To most people in football the way they imagine it happened is so different to the way that it actually did," he said.
"It wasn't the big Norwegian billionaire owners who moved the club to Milton Keynes. It was an administrator who said 'I'm going liquidate the club tomorrow unless you come up with the money to keep it going'.
"The only way I could come up with the money to keep it going was to move it to Milton Keynes.
"For the first seven weeks of that administration we did nothing. I will never understand why AFC Wimbledon did not buy their club. That's the bit that always confuses me.
"Since we made the decision I've tried to make a bad decision a good decision by the things we have gone on to do."
In that time AFC have climbed from the ninth tier of English football to League Two, one division below MK.
"I want to be the first to admit the incredible adventure AFC Wimbledon have had. They've put fan-owned clubs on the agenda," said Winkelman.
"We'll never be friends but we are related and I hope we can have a good family get-together."
Some AFC supporters have suggested they will not attend the second-round match between the teams at Stadium MK on 2 December, so as not to give funds to a club they believe should not exist.
"They do have a history of boycotting their team. So I wouldn't be surprised," said Winkelman.
"I remember when we first talked about the move - quite rightly they were upset and made some fantastic protests.
"But one protest I didn't agree with was turning their back on their team. It was never the team's or the players' fault. And it's not the team or players' fault now and I don't understand why they would need to suffer.
"The AFC Wimbledon team that comes here will need every bit of support they can be given to give them the best chance of succeeding on the day."