Peter Herbert 'ill-advised' says PFA's Clarke Carlisle
Last updated on .From the section Football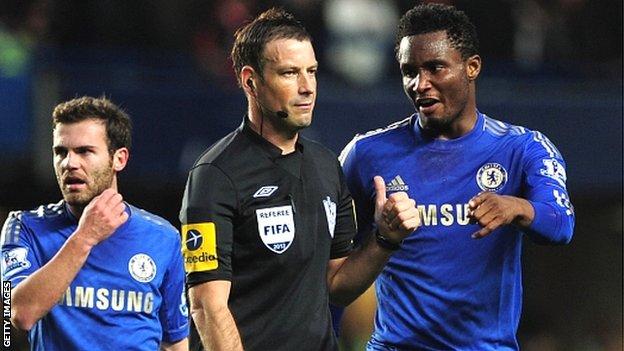 Peter Herbert's criticisms of the Football Association and Chelsea are "ill-advised" and "unwelcome", according to Professional Footballers' Association chairman Clarke Carlisle.
But Carlisle believes Herbert is in no position to make such comments.
"It is ill-advised for Mr Herbert to make accusations of collusions and cover-ups," he said. "It is unwelcome."
Herbert, who made the official complaint to the Metropolitan Police Service, is also behind the plans for a potential black players' breakaway union.
The human-rights barrister believes the FA has not done enough to investigate a complaint against referee Mark Clattenburg after he allegedly used "inappropriate language" towards Chelsea's John Obi Mikel and Juan Mata during the Blues' 3-2 defeat at home to Manchester United n 28 October.
But Carlisle said Herbert was "speaking about the incident from a position of little or zero evidence."
Carlisle added: "He made his report to the police off the back of information he received from the Daily Mail and I have greater faith in Chelsea and the FA acting accordingly with their first-hand evidence and witnesses.
"The case is being dealt with correctly - as it should be in the current climate - rather than with a third or fourth party observing from the outside. I wouldn't want to comment on what is going on without the full facts and evidence."
Later, speaking on BBC Radio 5 Live, Carlisle added: "Mr Herbert has made plenty of statements recently, and a lot of them seem to have been misguided in my personal opinion.
"There's definitely still an issue with racism that we have to tackle in the game, but he's using such emotive and antagonistic language that it seems to be setting up division within this campaign against racism, as opposed to trying to form the collaborative effort which football has been trying to do for many years.
"As a union, we need to make sure that we don't set up separate entities to fight racism. It's our remit as human beings and as members of our society to tackle racism. That's white, black and Asian and all in between."
Chelsea made a formal complaint on 29 October. A day later, the FA opened an investigation into the allegation, part of which was that Clattenburg used racial language.
On Tuesday, police suspended its investigation because "no victims" had come forward, which meant the matter could not be investigated "without a victim and/or any evidence that any offence has been committed".
But the FA confirmed its investigation would proceed, with Herbert furious that neither the governing body or Chelsea had taken the matter to the police. The FA is expected to announce its findings in the coming days.