Hearts: John McGlynn braced for January departures
Last updated on .From the section Football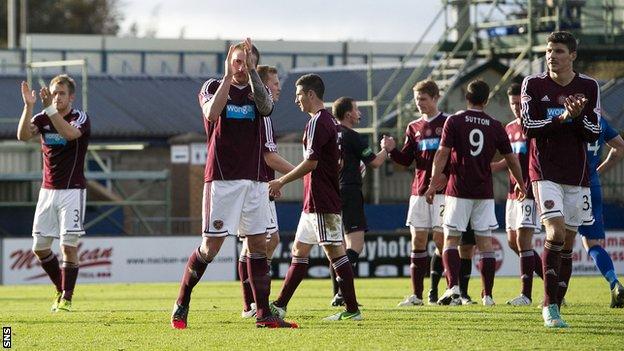 Manager John McGlynn would not be surprised if financially troubled Hearts part with players in January.
"The wage bill was halved in the summer but it is still an issue and a problem," he said. "It may well be that players get interest and we get bids.
"It would be very good to keep every player until the end of the season but the most important thing is that the club survives.
"We want to stay competitive but it's a balancing act."
Rudi Skacel, Ian Black, Suso Santana, David Templeton, Craig Beattie, Stephen Elliott, Adrian Mrowiec, David Obua and Gary Glen were among the summer departures at Tynecastle.
Yet the club remains in a perilous position.
The Edinburgh outfit were issued with a winding up order over an unpaid tax bill of close to £450,000 but have since agreed an extension with Her Majesty's Revenue and Customs.
The club are also contesting another tax bill for £1.75m in relation to previous loan deals, revealed recently in Hearts' documentation for its share offer.
That offer aims to raise around £1.8m for a 10% stake, with the club projecting a shortfall in funding of £2m for the season.
Despite the dire straits, McGlynn does not expect to lose any of his first-team regulars on the cheap.
"It's a difficult situation but the club has done very well with selling players on in the past," he said.
Some of those players, along with coaching staff, have agreed to deferred wages in a bid to ease the burden on the club and McGlynn was fulsome in his praise for their gesture.
"The players deserve massive credit," he added.
"It's not the entire squad but some are not going to get paid for six to eight weeks.
"They've got families and mortgages, bills to play like everyone else but it seemed like everybody was happy to help out."
Hearts have rejected a "note of interest" in the club from the Foundation of Hearts consortium led by businessman Alex Mackie, which is proposing a model of fan ownership.
But the club will continue dialogue with Supporters Direct Scotland.
McGlynn refused to comment on moves to alter the running of the club, which has been owned by Lithuanian-based banker Vladimir Romanov for seven years.
"Managers and players; we can't get involved in that," he explained.
"We have to leave that to the people in charge and concentrate on the football.
"Whatever's best for the club will ultimately come through. Everyone will have different opinions."
Hearts supporters have responded to the club's plight by purchasing tickets in advance for home matches and taking up the share offer, while some have organised other fund-raising activities.
"The reaction of the fans has been very humbling," added McGlynn.
"I'm really lost for words to describe our gratitude to everyone who has contributed."
Saturday's home match with St Mirren will attract a crowd of more than 15,000 as Hearts aim to improve on their 10th place standing in the Scottish Premier League.
"The staff at Tynecastle are working hard on the share issue and selling tickets for a near sell-out," said McGlynn.
"Now we have to do our part on the pitch.
"Hopefully, it doesn't add pressure for the players, more motivation and incentive to do well."