QPR midfielder Samba Diakite may put club before Mali
By John Bennett
BBC World Service Sport
Last updated on .From the section Football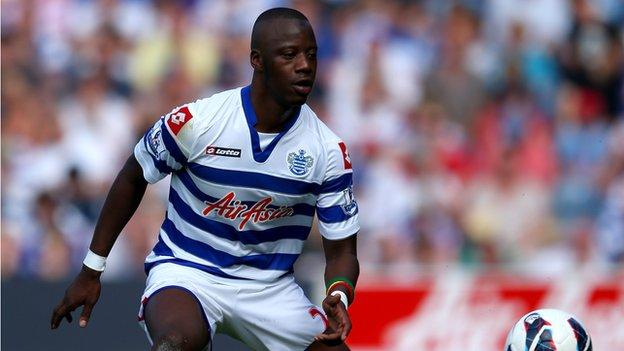 Queens Park Rangers midfielder Samba Diakite has admitted that he may have to pull out of next year's Africa Cup of Nations if the club's form does not improve.
The 23 year-old was one of Mali's key players when the Eagles finished third at the tournament in February, their best finish in four decades.
The Nations Cup starts in South Africa in January and Diakite says while he would like to be there he says he does not want to let QPR down by missing crucial Premier League matches.
"It's a big tournament and it's true that it's an exciting challenge but when you take into account the position of the club at the moment, whether or not I go to South Africa will need a lot of thinking about," he told BBC Sport.
"I haven't talked to Mark Hughes (the QPR manager) about it yet because there are still quite a few matches to go before the Cup of Nations."
"I'm going to talk to the Mali coach. If I feel good and we (QPR) are getting better results I will speak to the club to see if I can go."
"The most important thing is that the club are in a good position by then and that I'm healthy. If that's the case then I'll be in South Africa."
Diakite signed a permanent four-year deal with QPR in June after originally joining the West London club in February, on loan from the French side Nancy.
Earlier this season he was given a short leave of absence for personal reasons.
Diakite says he is very grateful for the support he received from QPR during that time.
"Everything is going well now, I'm happy."
"I won't forget how helpful the club was with me. They were very, very patient with me. They did everything to make sure I was ok."
"I hope I can repay them for that. I think I owe the club a lot for what they've done for me."
QPR are bottom of the Premier League table after taking just four points from their first 11 matches.
But Diakite is confident they can turn things around.
"I think we're on the right track. Of course it's tough but I'm used to it. With Nancy in France we were in a relegation battle for two years," he pointed out.
"When you look at the potential of the team, I hope we'll get out of this situation quickly."
Mali start their Africa Cup of Nations campaign against Ghana on 20th January at the Nelson Mandela Bay Stadium in Port Elizabeth.
Niger and DR Congo are the other teams in their first round group.
"It's a tough group but I think we have the quality to finish top," Diakite says.
"Ghana will be favourites and that's our first game, I hope we can reproduce the last game we played against them when we won 2-0 (in the third place play-off at the last Cup of Nations)."
"I hope we can beat them and then why not meet them again in the final?"
"The last Cup of Nations was a superb experience on a human level, the spirit in the squad was fantastic and we came very close to reaching the final. I hope that next year we can go all the way."