NI fans see great expectations dashed again
By Lyle Jackson
BBC Sport at Windsor Park
Last updated on .From the section Football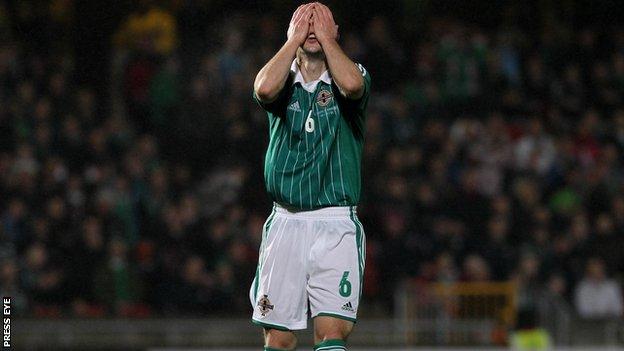 It is where they always look on the bright side of life, the headquarters of the Green and White Army. On a wet Wednesday night the Northern Ireland fans are back on the Spion Kop, or the West Stand as it's officially described.
A near sell-out crowd has come to the old Belfast ground to see Michael O'Neill get his first win after almost a year as Northern Ireland manager. That's the plan, anyway.
With just two points from three matches in World Cup qualifying Group F, the pressure is on to beat Azerbaijan, managed by former German player and boss Berti Vogts.
Two new stands are planned as part of a badly-needed, long overdue upgrade at Windsor Park, but for now the Kop end structure is the 'newest' part of the current stadium, built in the late 1990s. It has around 5,000 seats but none of them, as far as I could see, are used on international nights as all GAWA members stand for the entire match.
The Northern Ireland fans are enthusiastic and optimistic by nature, which is just as well. Frequent disappointments are included in the package.
"When you support Northern Ireland, you don't expect them to win. A win is a bonus," says John Collins from Ballyclare.
"We are only a small country and half the people in the country do not support the team.
"So, we party whether we win or lose."
The Kop end is where the real Windsor Park atmosphere can be found.
The fans are in ebullient mood, the singing is in full swing and all that is needed is a Northern Ireland win.
Now, what were we saying about frequent disappointments?
Five minutes in - Northern Ireland fail to close down Rauf Aliyev who shoots Azerbaijan into the lead.
If Northern Ireland don't win this one, will they manage a single victory in Group F? Seems a fair question at this point.
Still, the Kop keeps singing, spirits remain defiantly high.
For some fans, the playing list did, at one point, contain less than complimentary references to James McClean, the Sunderland player who defected from Northern Ireland to play for the Republic. It was a bit tongue-in-cheek and was sung by a significant minority, but there was an edge to it.
Earlier, there had been that bit during God Save the Queen, when some fans add in 'no surrender'. Having attended matches at Windsor for decades, it seems this part is now sung by fewer people and more in obligation than defiance.
Half-time arrives and Michael O'Neill's men are still a goal in arrears. It is not looking good.
"We haven't taken our chances, it is worrying," says Neil McClelland, a diehard 'home and away' fan from the supporters' club in Hillsborough.
"I was hoping for something a bit better after the draw in Portugal but had a feeling we might mess up."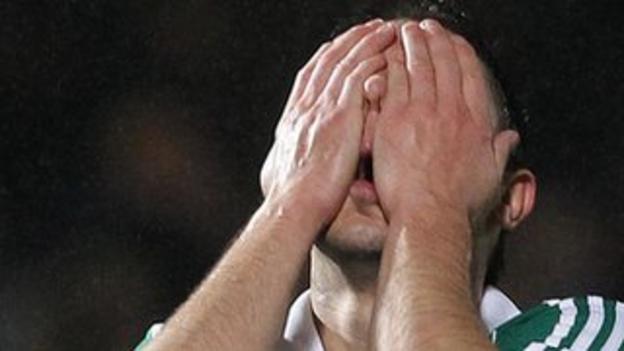 And so to the second half. More NI chances come and go. Fans' frustration at the visitors' time-wasting tactics grows.
The board goes up to show six minutes' stoppage-time, but it looks like this is heading for a depressing defeat.
Total disaster is averted, however, thanks to the interjection of an old familiar face.
For years, NI fans chanted the name 'Healy, Healy' but those days were behind us, weren't they?.
King David, now at Bury and supposedly struggling for match fitness, returns for an encore - four years after his last international goal.
The 33-year-old's stoppage-time free-kick salvages a point from the wreckage.
Fans in the Kop end give NI's record scorer a terrific ovation. It is just like the Lawrie Sanchez days when Healy's goals earned famous wins over England and Spain.
This, though, is a draw against Azerbaijan. Not what the Green and White Army had hoped for.
Trudging out of the ground and along towards Tate's Avenue, the talk among the faithful fans is of Healy's equaliser. There was something comforting about that unexpected salvo from their old saviour.
Heads down to shelter from the steady rain, the pace quickens en route to parked cars, bus stops and city centre hostelries.
Still no win in the Michael O'Neill era, and that is the way it will remain until March when Russia are the visitors for another World Cup qualifier.
The Green and White Army will be back. Once again, more in hope than expectation.