Yeovil Town boss Gary Johnson welcomes fan initiative
Last updated on .From the section Football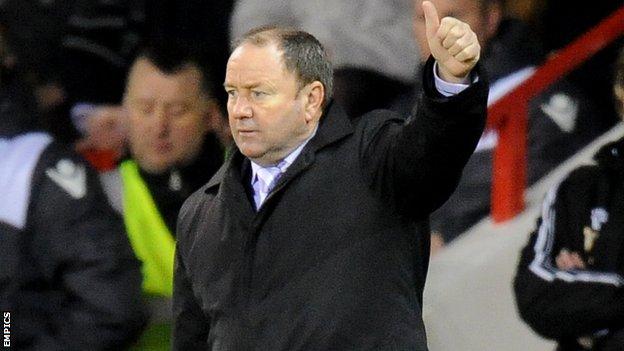 Yeovil manager Gary Johnson has given his backing to a scheme set up to improve crowd numbers at Huish Park.
This season the Glovers have recorded some of their lowest gates since joining the Football League in 2003-04, and are averaging 4,005 a game.
The League One club have now introduced a number of initiatives in the hope of increasing the average to 5,000.
"If we can entice some new support then that's great," Glovers boss Johnson told BBC Somerset.
"It's not that we aren't appreciating the ones that are here, but the realistic side is that if you don't get the gates then we can't aspire to the ambitions of the manager, the players and the club."
The club will be offering incentives for season ticket holders, local senior and junior club members, schools and corporate groups - with the main focus on bringing in young fans.
"You have to go for the new, young, enthusiastic supporter," continued Johnson. "If we can make them feel a part of Yeovil then maybe they'll be the ones writing us letters in 30 years time saying: 'I've been supporting this club for 30 years'."
It was Johnson who led the Glovers into the Football League for the first time and the club were then averaging crowds of 6,196.
They have remained in League One since gaining promotion under Johnson in 2005 - the same year he left to join Bristol City.
But attendances at Huish Park have declined for the past five seasons and Johnson, who returned to the club in January, is keen to regain the same atmosphere he experienced during his first spell in charge.
"I've shown the lads some of the our games from the past so that they know what we've got in mind and what we are looking for," he added.
"It shows the big crowds at the games. They were very noisy, supportive and up for it. It creates such a lovely atmosphere and it would be great to get back to that.
"But you have to win football matches and you have to give them something that gets them back in.
"It's a similar story all over the country, especially for clubs at our level.
"Often there's clubs not too far away that people can go and support in the Premier League or Championship.
"We have to keep fighting and competing for their support."