Accrington: Richardson wants assistant despite Beattie arrival
Last updated on .From the section Football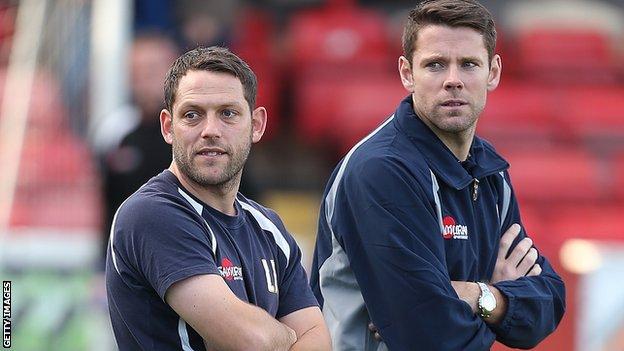 Accrington Stanley boss Leam Richardson will continue his search for an assistant manager, despite the arrival of new player-coach James Beattie.
Richardson was number two to Paul Cook before he left to join Chesterfield.
"I think it's important for the club to get an assistant manager in," the 32-year-old told BBC Radio Lancashire.
"To get somebody at the side of you to offer advice and challenge you on a day-to-day basis, for me as a young manager, is a must."
He added: "Although I would say I'm quite eager to get somebody in, I won't get somebody in just for the sake of it.
"I've been speaking to quite a few people in the game for advice and if I do bring someone in, it will be for the right reasons."
Former England striker Beattie, who has not played a competitive match since May, could make his Stanley debut at Barnet on Friday.
Richardson continued: "You don't play as long as he has if you don't look after yourself. He looks after himself and he's in great condition.
"He needs to get some match-fitness, but as for his general fitness, he's in great shape. If we have a couple of weeks with him and he gets a couple of minutes on the pitch, he should improve no end."
Beattie has dropped into the fourth tier of English football for the first time as he attempts to rebuild his career.
He was playing in the Premier League for Blackpool a little over a year ago, although he admitted that things started to go wrong towards the end of his spell with Stoke City.
The former Southampton and Everton man said: "I thought I did a good job at Stoke initially in that first half-season to keep us up, and then the first half of the season up until that incident that happened with the manager.
"It's not been ideal since then, but I'm still here and I'm still harbouring ambitions to play at a higher level.
"With not playing consistently for two-and-a-half years, my body feels good for a 34-year-old footballer.
"I'm ready, I'm hungry and I want to play. To score any goal is a great feeling and if I can get it early doors, that will be great."