Kettering Town 'could play more home games' at Steel Park
Last updated on .From the section Football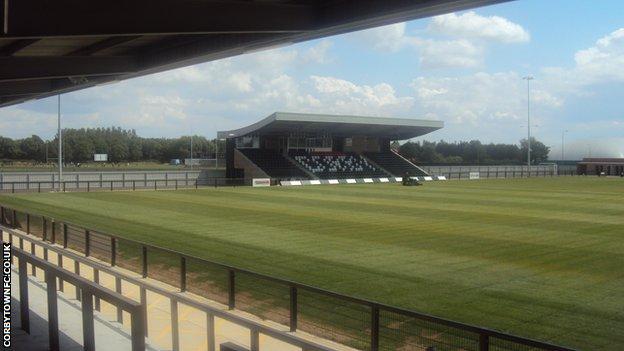 Kettering Town could play four or five more home matches at Corby Town's ground, according to Corby chairman Kevin Ingram.
Ingram told BBC Radio Northampton: "We'll be charging £1,000 a game.
"We are very early into these negotiations but I expect to seal the deal in the next few days."
The Steelmen would also recoup the costs of putting on the matches and take money over the bar under the proposed arrangement.
However, Ingram insisted that the pitch would not suffer as a result of the extra fixtures and categorically denied there would be a merger of the two clubs.
Corby, who play in the Blue Square Bet North, do not own Steel Park, but have been given permission by Corby Borough Council to allow Kettering to stage games there.
"We exist there on a peppercorn rent for many years to come," said Ingram. "They expect us to charge a fee.
"The only other condition [for Kettering Town] will be they have to pay us up front for all four games - it's about £15,000 when you add the expenses, the hire fee and the bond we'll be levying, as we did last week.
"It's a case of talking to all the parties concerned. We need the council's approval, we need to work with Corby Athletic Club [who share the dressing rooms] and we need to get permission from the Blue Square league and the Southern League.
"None of that is beyond the wit of man, [even] if Kettering have to move a game or two to get them in."
Ritchie Jeune, who helped to arrange the deal between the two clubs for the Redditch game, denied that using Steel Park was a done deal.
"Kettering Town are enquiring to several clubs about where to play home games," he wrote on his Twitter account. "No agreement has been agreed with any club yet.
"Fixtures clash with Corby town so other options might fit Kettering Town and the Southern League.
"Corby is my preferred option but its not my call. Fans may not want Sunday games. Once we have all the views, the shareholders can take a view on what they want to do."