Tony Watt signs new Celtic contract until 2016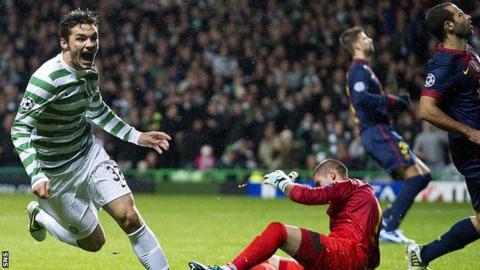 Celtic striker Tony Watt has signed a new contract to keep him at the club until 2016.
The 18-year-old has been impressive this season, scoring six goals - including one in the 2-1 Champions League victory over Barcelona.
"I'm delighted to have signed this new contract," the Scotland U21 international told the club website.
"I'm a Celtic fan and this is where I want to play my football. The last couple of weeks have been incredible."
Watt, who signed from Airdrie United in January 2011 for £100,000, made his first team debut against Motherwell in April last season, scoring twice as a second-half substitute.
"I know I've still got a lot of hard work ahead of me in my career," he added.
"But it's great to know that I'll be here as part of this exciting young team the manager's building at Celtic."
The striker also revealed that he was keeping his feet on the ground, despite the increased recognition for his goal against Barcelona.
"Everybody is stopping and talking to me and saying 'well done' for the Barcelona match," he said. "I've just taken it in my stride.
"It has happened so I can't dwell on it. It will be a good memory for the rest of my life but I just need to get on with the rest of my season and maybe look back at the end of the season.
"You don't want to be fazed by it and let it get in your head and start thinking you are better than what you are.
"It's a goal but I have got a lot more to do in my career."