Newcastle 'dismayed' as Senegal bar Cisse from Swansea match
Last updated on .From the section Football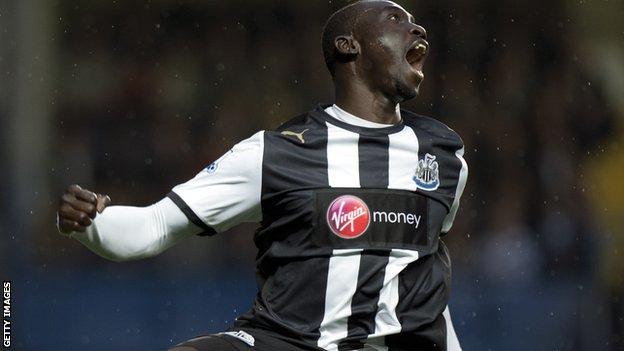 Newcastle have reacted angrily to the Senegalese Federation blocking Papiss Cisse from playing against Swansea in the Premier League on Saturday.
The striker withdrew from Senegal's squad for a friendly in Niger this week, citing a back problem.
Senegal have invoked Fifa's five-day rule after claiming they were not sent details of Cisse's condition.
In a statement the club said they were, "dismayed and angry at the position adopted by the Senegalese Federation".
The Magpies say they informed Senegal that Cisse would not be available for his country's fixture on Wednesday immediately after their defeat by West Ham last Sunday, but that no reply was received.
Under the Fifa rule invoked by Senegal, nations can suspend a player for five days if he fails to show up for an international fixture without good reason.
Newcastle's statement continued: "In accordance with Fifa regulations, the club was more than happy for the player to be examined in England by a doctor of the Federation's choice in order to validate the player's medical condition.
"The Federation did not take this option and instead contacted Fifa to ask them to apply the regulation that effectively prevents Papiss from playing this weekend.
"It is the opinion of the club that it is wrong and wholly unjust for a national association to behave in this manner and for Fifa to endorse their stance and automatically apply the sanction without taking into account the specific facts of the case.
"The club will be speaking to its legal advisors to see if it has recourse against the Senegalese Federation and/or Fifa."
In the same statement Cisse, 27, states that he is now considering whether or not he wants to continue captaining his country.
"I love playing for my country and would only withdraw from a squad - for either a friendly or competitive game - for a genuine reason.
"I am fully supportive of the position my club has adopted in this matter and am sorry that the Federation seem to doubt my honesty and integrity. I will now consider if I wish to continue to captain my country."
Cisse has scored three times this season for Newcastle, who have won just once in their last six games in the league.