Premier League talks: Clubs close to agreeing to control losses

By David Bond
BBC sports editor
Last updated on .From the section Football159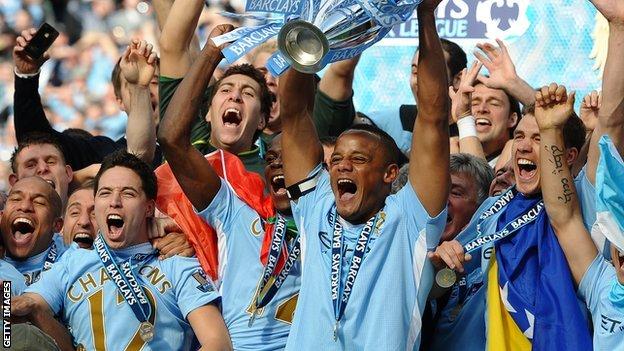 The Premier League has taken another step towards introducing new financial controls to stem the vast sums of money spent by clubs on player wages and transfers.
With the League's club chairmen and chief executives met in West London on Thursday to discuss a way of keeping hold of more of that cash.
Football's 'prune juice' economics dictates that the more money a club has, the more they splurge on players and their agents' fees.
But for the first time since the League was founded 20 years ago there does seem to be genuine consensus that a new way needs to be found to stop the clubs acting as clearing houses for the game's top talent.
Reaching an agreement acceptable to such a broad range of businesses - big, small, privately owned, controlled by shareholders - will not be easy.
And as the club representatives left the meeting it was clear there is still a long way to go before any new rules are introduced.
But there was understood to be an acceptance that there needs to be a compromise, even from those clubs with strong views about the type of method required to control the League's finances.
Some teams favour restricting clubs to spending a fixed percentage of their turnover on players' wages. Others would like to see a cap placed on annual wage bills.
Then there is the break even model which, limits a club's spending by preventing teams from running at a loss year after year.
But this is clearly a complex issue. For example, what do you do about those clubs like Chelsea and Manchester City, who are privately owned by wealthy individuals.
How would the rules treat large injections of equity from owners like Roman Abramovich or Sheikh Mansour?
What about clubs which borrow heavily to fund player purchases? And if another model is devised different to the Uefa rules, then how does that sit with those clubs playing in Europe? Would they have to comply with two restrictive sets of regulations?
Finally there is the issue of sanctions. How severe should the penalties be? Points deductions and fines were discussed at the meeting on Thursday but whatever the punishment is for failing to meet the guidelines, they will have to have teeth.
Despite all these issues clubs do appear committed to doing something about the huge losses which English clubs continue to make.
For a League which five years ago was dead set against any regulation whatsoever this is a breakthrough moment.
But with so much money about to flow through the League from TV deals the clubs know this is an opportunity which can't be missed.