Scottish football politics need fixed says Kilmarnock manager Kenny Shiels
Last updated on .From the section Football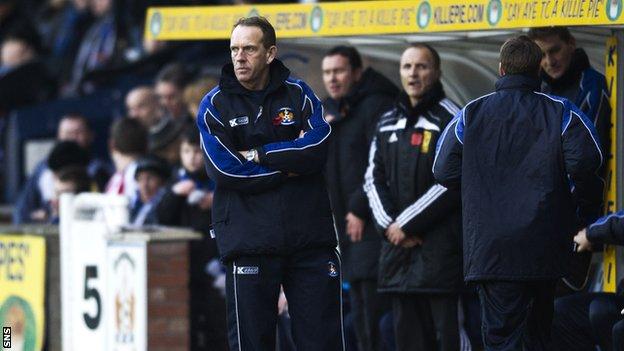 Kenny Shiels thinks Scottish football's political war must be won and lost before league reconstruction happens.
Kilmarnock's boss insists the battle for supreme authority between the SFA, SPL and SFL must be resolved first.
He believes personal interest must not be allowed to sway discussions over proposals to improve the game.
"You've got the SFA, the SPL and the SFL - they'll have to have the Third World War first before anything happens!" said Shiels.
"So we'll see who comes out on top in that!
"People are jockeying for position, they're looking after their own little empires. These things happen but someone has to give ground.
"It's not about me and what's best for me the individual. If you get me in a room and ask me what's best for football I would have to make consideration as to what is best for football first.
"Obviously I have to think and opine into what's best for my club, but what's best for football should be the common denominator - not what's best for me and my position in the SFA or the SFL or the SPL."
He added: "It shouldn't be about me - me being the person who's looking after my position. A lot of people in the suits will make opinions and decisions based on what's best for them as individuals. Therein lies the problem!"
On Wednesday the SFL unanimously voted to propose the leagues be restructured into a 16 team top division, a 10 team second tier and a bottom tier of 16 clubs.
"I think it's a good product as it sits and trial and error would come into play as to whether 16 would be better, " Shiels told BBC Scotland.
"They have to sit down and talk with football people. They need to speak to people at the coal face who would know a little bit more of what's happening on the football side of things.
"I would like to see what the managers and the staff all think.
"I think 16 would be really good - I think 12 is good also. People like to see changes taking place but they are only good if they are for the better.
"There are risks with all formats. Clubs have got into the 38 game situation. Is a 16 [team] top league going to give them only 37 games and the loss of a home fixture?
"That could be significant for a Motherwell or a Kilmarnock if they lose a home gate. So there are things that need to be taken into consideration."