Hibernian winger Ivan Sproule has sympathy for Hearts
Last updated on .From the section Football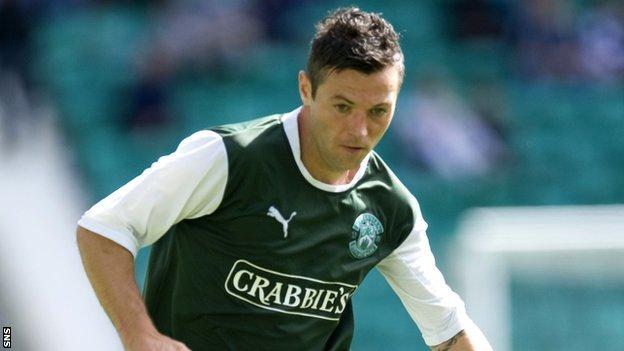 Hibernian winger Ivan Sproule thinks it's important Hearts stay in business to ensure the rivalry between the two clubs continues.
And the Northern Ireland international says he has sympathy with the fans of the Tynecastle club who are raising money to try and save their club.
"I'd certainly never like to see a derby rival go down," he told BBC Scotland.
"If you ask any Hibs fan to be honest about the thing, they definitely won't want to see their derby rivals go down.
"My sympathy goes out to the fans, and not just the players, but the people maybe a wee bit below them that maybe jobs are in a wee bit of doubt."
With Hibernian sitting top of the Scottish Premier League, Sproule also said that the atmosphere at Easter Road was much more positive this season.
"There's a lot of players here trying to prove something, that have been given an opportunity and they're certainly grabbing that with both hands," he said.
"It's refreshing for Hibs as a whole to see that turnaround from last season.
"There's a lot of work left to be done here, but we're certainly moving in the right direction."
And Sproule pinpointed a lack of fear among the players as key to Hibs' resurgence this term.
"There was a fear factor at Easter Road last term," he said.
"I think that's the refreshing thing this year, there doesn't seem to be any sense of fear.
"There's a dark cloud been lifted off the whole of Hibs."