West Ham midfielder Mark Noble hopes for England call-up
Last updated on .From the section Football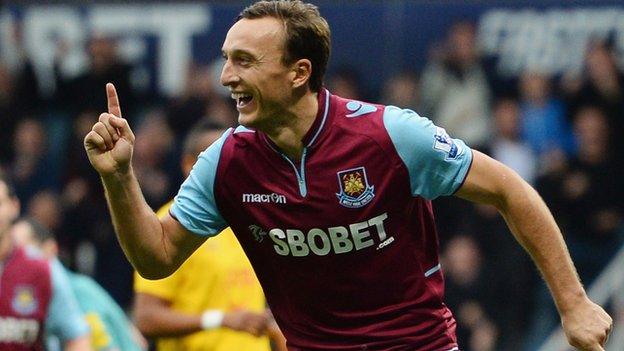 West Ham midfielder Mark Noble says he is playing the best football of his career and hopes his form could earn a first full England cap.
The former England under-21 skipper has started every game as the Hammers have risen to sixth in the Premier League in their first season since promotion.
Noble, 25, says hard work may catch the attention of England boss Roy Hodgson.
"I've just got to keep playing as well as I can for West Ham, and hopefully that will happen," he told BBC Sport.
Noble has thrived under manager Sam Allardyce, and has started 57 of the 60 league matches played since the former Bolton, Newcastle and Blackburn boss took over in the summer of 2011.
"He's been good for me. I'm probably playing the best football of my career," said Noble, who represented England at every level from under-16 to under-21.
"I'm growing up. I've become mentally and physically a much better player than I was before. I played the whole of last season, and started nearly every game under the manager."
Noble said being selected by his country would be "the pinnacle of any English player's career" and he would be honoured to have the chance of playing at the 2014 World Cup in Brazil.
"I've got ambitions and goals and to be involved in something like that would be fantastic, but I've got to prove myself first," he added.
"I'm just back in the Premier League this year. If you work hard, hopefully you make those goals come true.
"Every manager has their own opinions of players. At the minute I'm thoroughly enjoying things and if that day does happen, then I will enjoy it just that little bit more."
Noble, who made his debut aged 17 for West Ham in 2004, is the club's longest-serving player and said a friend at school had placed a wager on him being capped by England.
"When I was a kid, a mate of mine had a bet on me playing for England. I haven't spoken to him for years and years so hopefully he kept the betting slip," he said.
"If it does happen one day, hopefully he can skip down the bookies and get paid. I can't remember how much he put on me but hopefully he's got it tucked away in a draw somewhere."
Read more from Mark Noble on Sunday, 18 November as the BBC Sport website looks at West Ham's bright start to the season.