Tottenham Hotspur to meet police and Kick It Out officials
Last updated on .From the section Football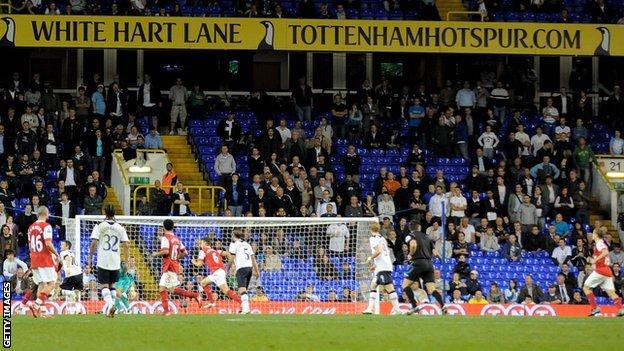 Tottenham Hotspur officials are to meet Metropolitan Police officials to discuss how to tackle anti-Semitism.
Representatives of anti-racism group Kick It Out will also be present at next week's meeting.
However Spurs said the meeting was not specifically about Tottenham fans' reference to themselves as "Yid Army".
Peter Herbert, who chairs the Society of Black Lawyers (SBL), had said he would report the club to police over the chant if no action was taken.
Jon Benjamin, chief executive of the British Board of Jewish Deputies and a leading voice on Jewish issues, agreed with the SBL that the consequences of the chants were "perhaps worse" because the intent was "less benign".
"The consequences are that it provokes a reaction from visiting fans or from fans that the Spurs team are visiting," he said.
"It is very much what this creates as an atmosphere and environment around the terraces and for many people it's unacceptable and for many people supporting Spurs there is a loyal defence.
"But I wonder whether in any other context they would find it equally acceptable, I'm sure they wouldn't."
Spurs said the meeting was about how to collectively tackle anti-Semitism, rather than a specific discussion about the chant, which is a reference to the club's Jewish supporters
A statement on Tottenham's website read: "As part of our desire for a wider debate and action on how to collectively eradicate anti-Semitism from our footballing community, the club has arranged to meet with Kick It Out and the Metropolitan Police next week in order to discuss measures to be taken both inside and outside stadia."
Tottenham have encouraged their fans to take part in a Kick It Out survey concerning everything to do with the debate around discrimination in football.
"A key component for this debate is for us to understand the views of the fans in relation to discrimination in sport," the statement added.
"We are therefore delighted to support Kick It Out as they ask supporters to have their say in the biggest fans' consultation on tackling discrimination in football.
"The survey covers a range of topics from how to improve reporting of abusive behaviour and stewarding in stadiums, to combating abusive behaviour on social media."
The findings will be used to form a blueprint for football authorities in tackling discrimination in the game.
Speaking last week, Herbert said it was "unacceptable" for Tottenham fans to use the y-word, which can often be seen on flags and banners at the ground. He set a 20 November deadline for action, or he would go to the police.
"Fans are there to watch football and we are deeply saddened that fans are more concerned with what they chant than, in a sense, the game they are supposed to be watching," said Herbert.
"If the fans wish to continue, if Tottenham wishes to continue, then we will use every means at our disposal to make sure they do get the message which many in the Jewish community have already told us is unacceptable."