David Beckham has 'no plans' to play in Australia
Last updated on .From the section Football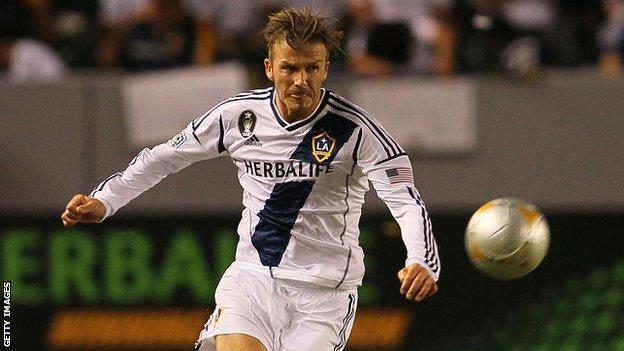 David Beckham has "no plans" to play in the A-League after the Football Federation of Australia (FFA) claimed preliminary talks had taken place with the former England captain.
The FFA said in a statement on Friday that they had been approached by the LA Galaxy midfielder's management over a possible short-term move to Australia.
A number of A-League clubs are understood to have made offers.
But a Beckham spokesperson said: "There are no plans to play in Australia."
Beckham, 37, signed a new two-year deal with LA Galaxy in January, but could be available for loan when the MLS season ends in a fortnight.
Perth Glory chief executive Paul Kelly says the club would be interested in signing Beckham.
"We are always happy to speak to players of the calibre of David Beckham," he said.
"At the end of the day it's the coach, Ian Ferguson who makes these decisions and we have a process that we follow when recruiting players.
"But we would be mad not to seriously consider David Beckham."
However, Beckham's spokesperson says the former Manchester United player's focus is solely on his career at LA Galaxy.
"David is completely focused on the MLS play offs and winning another Championship with the Galaxy," the spokesperson added.
"There is always enormous interest from clubs across the world in signing David as a player."
Two high-profile players - Alessandro Del Piero and Emile Heskey - moved to Australia recently.
Del Piero, who was capped over 90 times by Italy, signed for Sydney FC in the summer and has scored three goals in five games.
Former Aston Villa striker Heskey joined Newcastle Jets in September and has impressed in his short time in Australia so far, scoring five goals in six games.