Guernsey FC beat Erith Town in FA Vase
Last updated on .From the section Football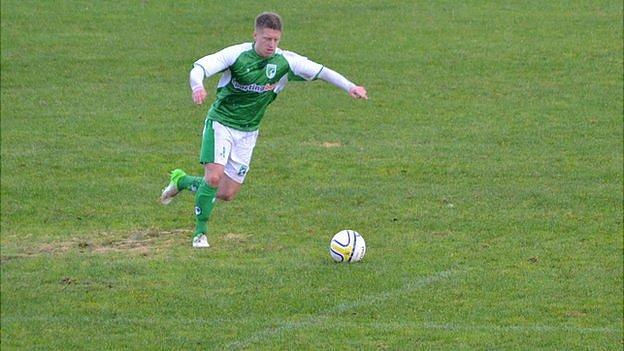 Guernsey FC came back from 3-0 down to win their second round FA Vase match at Erith Town 4-3 after extra-time.
The game was delayed for about an hour after Guernsey's Ryan Zico Black was taken to hospital with a broken leg.
Marcus Perona put Erith 1-0 up before Tyrus Gordon was sent off for the tackle that left Black injured.
Jamie Humphrys and Perona then scored before Jacques Isabelle, Alex Le Provost and Dave Rihoy made it 3-3 and Ross Allen scored an extra-time winner.
Speaking about Black's injury, Guernsey manager Tony Vance said: "It's a nasty break unfortunately, I feel devastated for the lad, he's such a cracking guy and so pivotal to us."
Vance told BBC Guernsey: "Once [Erith] had got used to the fact they were down to 10 men they played very well and deserved to go 3-0 up.
"We had the momentum and they had such a great big push to get to 3-0, it was incredible to get ourselves back to 3-3.
"The third goal was what our forwards were all about - running at defenders 1v1 - that's what I'd been trying to get us to do all game, which was very frustrating for me on the sidelines as it took us until the 90th minute to do that.
"The game at the moment is insignificant to me, yes we've won and I'm pleased but at the moment I'm really choked for Ryan."