Peter Lawwell thinks a European league could suit Celtic
Last updated on .From the section Football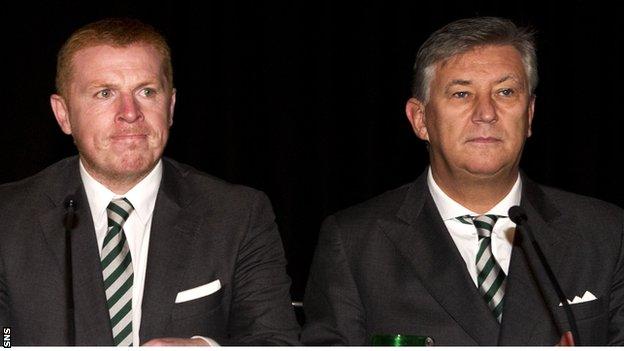 Chief executive Peter Lawwell has reaffirmed Celtic's commitment to the Scottish Premier League - for now.
He believes Uefa are open to some form of European regional leagues being created to bridge the financial gap between footballing nations.
"We are committed to the SPL but nothing stays the same," said Lawwell.
"Uefa have opened their mind up to some form of regional leagues. They recognise the polarisation between the top leagues and the smaller leagues."
Scandinavian countries, as well as the Belgian and Dutch leagues, are among the nations considering cross-border ventures.
"It's short of a proposal at the moment, it's a suggestion shall we say," explained Lawwell.
"It's very early days, I emphasise that, but what they are beginning to realise is that there is a huge chasm between the top leagues and smaller leagues in Europe.
"That quite clearly is due to size of population, size of reach, and media values in the last 10 years have really escalated beyond anyone's forecast to levels within these organisations that has made it difficult for others to compete.
"What they are thinking is that maybe one solution, maybe, is that smaller nations could form regional leagues that allow them to have bigger markets and therefore bigger media rights and close the gap slightly.
"There is a pilot programme with the Dutch and Belgian ladies' associations have merged. I believe the Dutch and Belgians have had preliminary chats, there have been chats in Scandinavia, Slovakia and Czech Republic, Lithuania-Latvia.
"It's very, very early but it is a concept. I think it's a minor breakthrough that Uefa have realised that and are beginning to open up their minds."
Lawwell stressed that he has not been given any indication as to where his club might fit into a new structure.
"It's too early to discuss that," he said. "The natural partner would be England but England don't suffer the stresses these other countries do.
"We feel that playing in Scotland, a country of five million people, and the media values that gives, is restrictive, not just for Celtic but any Scottish club.
"Therefore if there is an opportunity at the right time for Scottish football to take part in something wider, we should look at it pretty seriously.
"Let's be clear, this is not Celtic, Rangers going to England, it's not Celtic wanting to break away.
"The change is this very early possible change in attitude from UEFA, who have realised the problem.
"They feel it does really harm competition in European football and are looking for a solution to close the gap.
Lawwell was speaking at the club's AGM, where Celtic chairman Ian Bankier said Celtic could soon be in a "league of their own".
Bankier believes two or three successive years in the Champions League could see them attain a level no other Scottish club could match.
Meanwhile, manager Neil Lennon says he has a huge challenge in keeping his squad intact and expects "wolves at the door" in January.