Jen Chang leaves Liverpool role due to 'family reasons'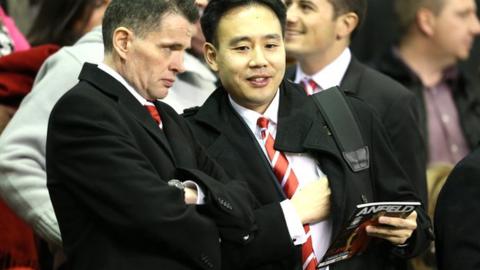 Liverpool's director of communications Jen Chang has left the club by mutual consent because of "family reasons".
The news comes a few weeks after Liverpool apologised for Chang's "inappropriate actions" following alleged harassment of fan Sean Cummins.
However, the club have not made a link between the two incidents.
Chang, appointed at the club in May, returned to his family home in New York last month after the property was damaged in Hurricane Sandy.
Liverpool managing director Ian Ayre issued a written apology to Cummins, the fan responsible for creating the spoof Twitter journalist Duncan Jenkins, after it was claimed Chang had tried to end his tweeting and blogging career.
Cummins successfully predicted a number of Liverpool transfers and the appointment of Brendan Rodgers as Reds boss during the summer, as well as telling fans which players had been picked for games before the team was officially confirmed on the club's website.
That prompted a search within the club to discover where the leaks had originated from.
Cummins published a blog on 12 October detailing the alleged actions of Chang.
He also revealed he had not been given any information from inside the club and had simply pieced information together from various sources on the internet to correctly predict transfers.
Chang originally left Merseyside after the club's Carling Cup defeat to Swansea on 31 October.
A spokesman said: "Jen bought a fresh perspective to the overall communications function through the use of a variety of media channels, including social media and blogs."
He added: "Jen would like to thank everyone he has worked with during his time at Liverpool for their support and respect and wishes the club every success."