Michael Laudrup hails Swansea's away win at Newcastle United
Last updated on .From the section Football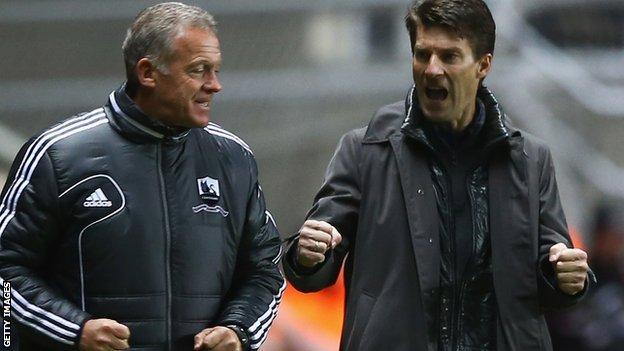 Michael Laudrup has described Swansea's City's 2-1 win at Newcastle United as their best away performance of the season.
Goals from Michu and Jonathan de Guzman secured Swansea's first away win in the Premier League since victory at QPR on the opening day of the season.
Swansea have moved up to tenth in the table following their first victory over Newcastle in 32 years.
"I would describe it as a really great away performance," Laudrup said.
Laudrup's side had not away from home in the league since August's win at Loftus Road although they had beaten at Anfield in the Capital One Cup last month.
"It was the best away performance this season, including QPR and Liverpool," Laudrup said after the win at St James' Park.
"At times we played very well and I don't remember a game, not even a home game, where we created so many chances.
"In the first half when we had four or five big chances and you don't score you start thinking is this the day where we lose 1-0 because we couldn't score.
"But I still prefer that to a game where we don't create anything. I always tell that to the boys
"If we have a day where we can't score then bad luck but I still think it's important to create the chances. And we've done that apart from one, maybe two games.
"Every game we create from five to eight, nine very good chances and we have to continue with that."
Despite victory at Newcastle, Laudrup has refused to get too carried away as he look forward to a busy schedule during the coming weeks.
Swansea host Liverpool next Sunday and West Brom the following Wednesday before travelling to Arsenal on 1 December.
"It's ok for the fans to dream - I cannot allow myself to do it," Laudrup added.
"I'm looking at the 16 points we have and 16 at this stage is very good.
"We can enjoy a couple of days and then we have three games in six days.
"[We've got] two home games against two great sides like Liverpool and maybe the surprise of the season up to now, West Brom. Then we have Arsenal away.
"I'm looking at the points and then after the game against Reading on Boxing Day we'll turn to the second half of the season.
"After that game we will have played 19 games. Let's see how many points we'll have and where we are and then we can start talking about realistic goals for the rest of the season."