West Ham United interested in Nicolas Anelka - Sam Allardyce
Last updated on .From the section Football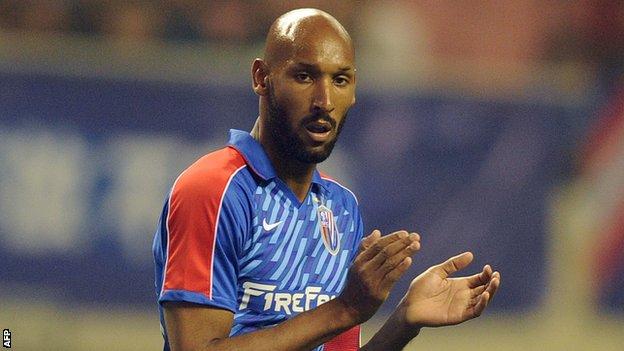 West Ham manager Sam Allardyce has said he is keen on re-signing Shanghai Shenhua striker Nicolas Anelka.
"It could interest me, of course it could," he said. "It would be of interest if that is a possibility financially and he wanted to come.
"I have had no conversations with Nicolas's agent at this time."
West Ham have enjoyed an impressive return to the Premier League this season and currently sit in seventh spot, in front of sides such as Tottenham, Liverpool and Newcastle, ahead of Monday night's game at home to Stoke at Upton Park.
The team already boasts England international centre forward Andy Carroll in attack, although he has yet to score for the London side following his loan move from Liverpool.
Anelka, who scored 123 top flight goals during spells at Arsenal, Liverpool, Manchester City, Bolton and Chelsea, joined the Chinese Super League outfit in January.
The former France international is thought to have signed a £250,000-a-week, two-year contract with Shenhua - where he is a team-mate of former Chelsea star Didier Drogba - and that could prove an obstacle to any deal.
But Allardyce hoped his former charge would be prepared to take a wage-cut to be near to his family home.
"He had a girlfriend, who is now his wife, and his family and I think that has matured him - I think Nicolas has still got his family here in London, I don't think they moved out to China," Allardyce said.
Question marks have often been raised about Anelka's attitude throughout a career where he previously earned the nickname "Le Sulk".
When asked about his questionable temperament, Allardyce insisted he had not had any problems with the ex-Real Madrid and Paris St-Germain star.
"He never was like that in his entire time I had him," he replied. "He was disappointed I left, when he came and played for me I had him at a very, very good time - probably at the height of his career, I would think, because he had matured into a dedicated professional.
"I think he has always been dedicated but he got sidetracked by certain situations through his younger days but he learnt from that, his experience across Europe."