SPL to discuss top two divisions with play-off system

By Jim Spence
BBC Scotland
Last updated on .From the section Football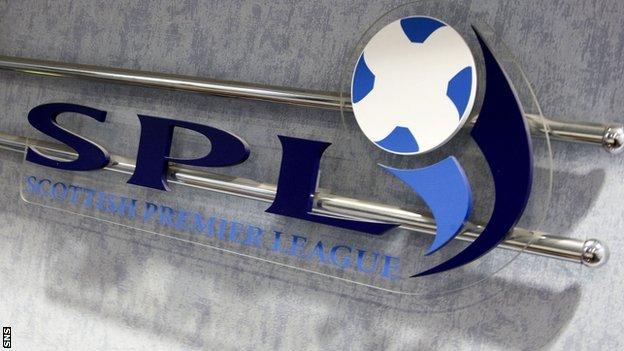 The Scottish Premier League will discuss the creation of two divisions with an extended play-off system.
A meeting next week will assess the setting-up of a format in which as many as four clubs could be relegated.
The top league would split after two rounds of fixtures in which teams had met home and away.
The top eight clubs would then meet a further twice home and away, while the bottom four clubs would play against the top four of the lower division.
These eight clubs would meet twice, home and away, with the bottom four clubs being relegated at the end of the season.
The bottom eight clubs in the lower division would also play-off against one another.
One SPL chairman told BBC Scotland: "I am going to this week's meeting with an open mind. There will be many things up for discussion. There is no agenda."
A 16-team top flight has also been discussed by SPL members, while it is believed the Scottish Football League will propose a model which also involves 16 clubs in the highest division.
The SFL currently has three divisions of 10, with 12 in the SPL under the present model.