Juventus v Chelsea: Serie A champions in confident mood
By James Horncastle
European football writer
Last updated on .From the section Football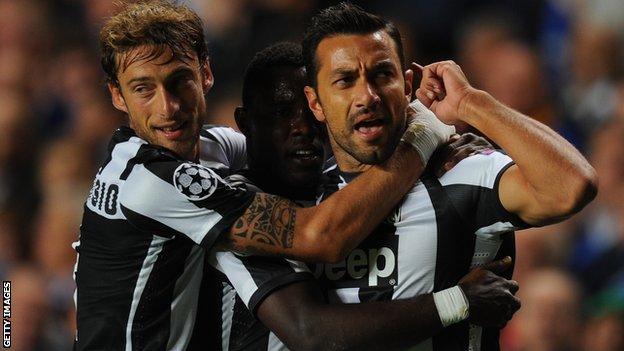 At 9.32pm on 7 November, Juventus coach Antonio Conte had a big smile on his face.
His team had just recorded an emphatic 4-0 win at home to FC Nordsjaelland in the Champions League. It was their first in the competition this season after three consecutive draws.
When Conte left the box from where he watched the game as part of a four-month touchline ban running until early December, Chelsea and Shakhtar Donetsk were drawing 2-2 at Stamford Bridge. As he walked past the press area on his way to the dressing room at 9.34pm, he heard a roar.
Victor Moses had just headed in a stoppage-time winner for Chelsea and two local journalists were rejoicing. According to La Gazzetta dello Sport, Conte was furious. "Is there somebody who celebrated? Who celebrated?" he apparently raged.
Moses's goal was significant. Had he not scored it, Chelsea would have been a point behind Juventus and a further three adrift of Shakhtar before Tuesday night's trip to Turin. Instead, they are a point in front of their hosts and level at the top of Group E.
If Chelsea return from Turin unbeaten they should qualify, as their final fixture is at home to Danish side Nordsjaelland, while Juventus must still visit Ukraine.
When Conte did eventually reach the dressing room, he found his players had seen Chelsea's winner and were reacting to it with understandable frustration. Yet they weren't down about it. On the contrary, Juventus remained positive.
"We came back into the dressing room and saw Chelsea's goal live," said defender Leonardo Bonucci. "[The Chelsea] game is the most important of Conte's management, but with this attitude and the help of the crowd, we can do it."
Reasons for the Serie A leaders to believe are not lacking. Chelsea were quite fortunate against Shakhtar, relying on a couple of howlers from the Ukrainian champions' goalkeeper Andriy Pyatov.
Juve will also be encouraged by their visit to Stamford Bridge in September. It ended 2-2 but - according to La Repubblica - had "the taste of victory" for the visitors after Juve fought back from 2-0 down.
Oscar had scored twice in two minutes midway through the first half. One was deflected and came while Juventus's Arturo Vidal was off the pitch receiving treatment. The other was one of the goals of the season.
Did the scoreline reflect the balance of play to that point? Not exactly. Juventus were being undone by an outstanding individual rather than a collective performance.
Instead of growing disheartened, they showed the mental resilience of a team that had gone undefeated throughout last season's Serie A campaign. Vidal pulled one back almost immediately. Fabio Quagliarella then equalised and should perhaps have scored a winner, striking the upright in the 86th minute.
Of course, Chelsea will have learned a lot from that encounter too.
Somewhat overlooked amid the goals he scored on his first Chelsea start was the excellent job Oscar did in preventing Juventus playmaker Andrea Pirlo from exerting his influence on the game. Stopping Pirlo alone, however, is not enough - as Juventus showed.
Since that game, Juventus's unbeaten run in Serie A has come to an end. As with Arsenal, whose undefeated sequence was broken by Manchester United at 49 games in 2004, Juventus were finally stopped on the same total, beaten 3-1 by Inter Milan two weeks ago.
Chelsea manager Roberto Di Matteo will no doubt have reviewed the footage of that match. Inter became the first senior team to win at the Juventus Stadium since its inauguration last year. The visitors were bold, playing three forwards, but it was what they did when out of possession that caught the eye.
Strikers Diego Milito and Rodrigo Palacio pressed high up the pitch to stop the hosts playing out from the back, looking to win the ball in dangerous positions. While one harried Bonucci, Juventus's ball playing centre-back, the other harassed the preferred recipient of his passes, Pirlo.
Juventus were forced to turn to other options and, as Chelsea found when Oscar shackled Pirlo, they went to Vidal. Anticipating this, Inter coach Andrea Stramaccioni asked his centre-back Juan Jesus to step up out of defence and press the Juventus midfielder whenever he was about to receive the ball.
David Luiz may need to do what Jesus did because Vidal has been Juventus's most decisive player this season.
He has scored eight goals so far, and four in his last five games. He missed out in Saturday's 0-0 draw with Lazio, but La Gazzetta dello Sport still made him man of the match.
Of concern to Juventus remains their occasional profligacy in front of goal. Against Lazio, they had 21 shots - though the scoreline owed something to the goalkeeping heroics of Federico Marchetti.
Likewise, Jesper Hansen was in prime form in goal for FC Nordsjaelland in Juventus's 1-1 draw in Copenhagen - but the Italians still scored just once from 33 attempts.
While the problem is overplayed - Juventus have scored 10 times in their last three matches and have 12 different players already off the mark this season - it is a recurring source of disquiet.
Their search for a recognised finisher capable of scoring 20 to 30 goals a season has led to them being linked with numerous strikers, including former Chelsea man Didier Drogba.
"I am not ruling anything out," general manager Beppe Marotta said. "If there is a chance, we won't let it get away from us."
There will be no reinforcements before Tuesday night's clash with Chelsea of course, when a delicately poised battle for the knockout stages could shift decisively in the Champions League holders' favour.
But Juventus, at full strength and with Pirlo fresh after playing just a half for Italy against France in midweek and serving a domestic suspension at the weekend, are confident of showing that the sun is far from setting on their European campaign.