Manchester United get ready for their return to 'hell'
Last updated on .From the section Football
Whatever happens to Manchester United when they fly out for their Champions League group game with Galatasaray this week, it is unlikely to compare with the horrors they faced 19 years ago on their first trip to Istanbul.
Back then, the Turkish side's fanatical supporters were not the only ones to enjoy their shock win over United in the second round of the 1993-94 Champions League.
Four days after United had gone out on away goals on a dramatic - and eventually violent - night, they ran out at Maine Road for a derby match against Manchester City to be greeted by hundreds of Turkish Delight bars being thrown on to the pitch and pelted at their fans.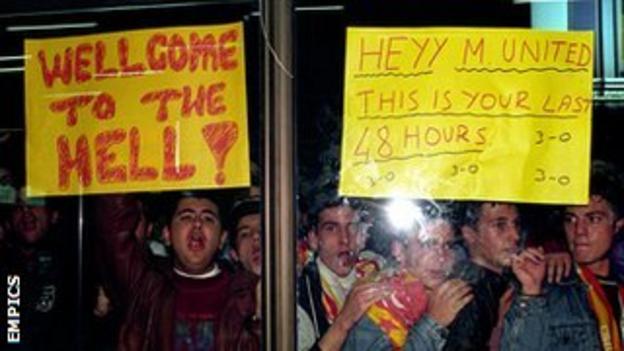 But United's players and supporters had dealt with a lot more than stray confectionary during their time in Istanbul, and not just when they walked out at Galatasaray's intimidating Ali Sami Yen Stadium.
It is a tie remembered for the Galatasaray fans waiting for Sir Alex Ferguson and his team at the airport to welcome them 'to hell', the electric atmosphere before kick-off at the ground, Eric Cantona being sent off at the final whistle and some United players being struck by riot police as they left the field.
The actual game, a 0-0 draw in which United created next to nothing, is far less memorable - especially compared to the 3-3 draw at Old Trafford in the first leg where United took a 2-0 lead before, as Ferguson would write in his autobiography, "we replaced controlled aggression with self-indulgence".
The Turkish champions hit back when Arif Erdem rifled a shot into the top corner from 25 yards and, after two goals from Kubilay Turkyilmaz, United were on the brink of the first home European defeat in their history until Cantona rescued a draw 10 minutes from time.
Arif would go on to play more than 400 games for Galatasaray, win seven league titles and the Uefa Cup and also play 60 times for his country, but on that October evening he says he was just a star-struck 21-year-old.
"It was the biggest game I had ever played in," he told BBC Sport this week. "I knew most of the United team - they were big players and famous names and we thought we had no chance.
"But after we went 2-0 down we relaxed as a team and responded well - and then I had my big chance.
"To score against Peter Schmeichel, the number one goalkeeper in the world, was amazing. For me it was a magnificent and elegant goal."
Galatasaray goalkeeper Hayrettin Demirbas told me by email: "Arif's goal made us believe and come together as a team and we came home with the the score we wanted."
What happened in Manchester meant none of the Galatasaray players were dazzled by United's line-up by the time the second leg came around a fortnight later.
Ferguson's men, meanwhile, were to pay the price for a different sort of naivety to the type they had displayed on the pitch. Yes, their trip to Turkey was a journey into the unknown but that was partly their own fault.
Former Leicester City manager Gordon Milne had just finished a successful seven-year stint in charge of Galatasaray's cross-city rivals Besiktas when the tie took place, and feels United did not prepare for the different culture they would experience.
"United had sent people out three weeks beforehand, to watch Galatasaray play home and away, so they had their own dossier on their players," Milne told BBC Sport.
"But what they did not take on board was the other side of things - the treatment you had to put up with and prepare for before and after the game, which Turkish sides accepted as the norm.
"I used to go to Trabzonspor with Besiktas and they would stone our coach going to the stadium and on the way out. There would be fires on the terraces, that sort of thing.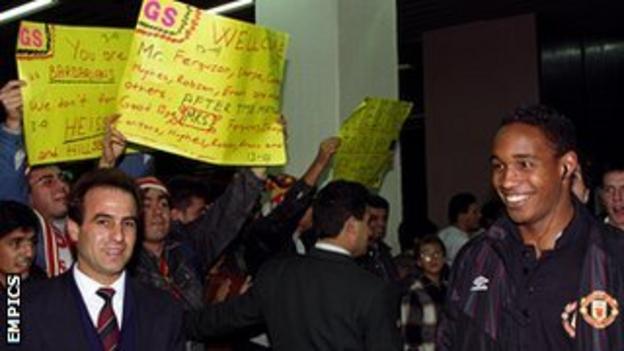 "That was for Turkish teams in Turkey - for European and international matches they took it up to the next level. What United got was just part of the welcome."
That included death threats at the airport but most of United's players appeared unnerved. Certainly, many of them are smiling in pictures taken when they walked through their welcome committee.
They did not cope with their reception and the facilities, or lack of them, at the 35,000-capacity Ali Sami Yen Stadium quite so well, however.
Turkey international keeper Hayrettin added: "Before the game I saw Schmeichel's face, and he was white all over. I said 'good luck' to him and I saw fear in his eyes."
The ground was nicknamed 'hell' - hence the banners displayed by Galatasaray fans - and Milne says that was appropriate, and not just because of its hostile atmosphere.
"It was primitive," explained the former Liverpool midfielder, who spent seven years in charge of Besiktas and won three Turkish titles in a row with them from 1990 to 1992.
"There were big iron fences around the sides and a little tunnel to the underground dressing room, with a little railing between you and the fans who would be trying to stop you from getting there.
"The supporters were always in hours before kick-off too, to ramp things up. It was quite intimidating. I always remember my teams playing there and it was not so much you were individually frightened, more that you it was so noisy you could not communicate.
"If you were not used to it, it could knock you off your stride."
United never looked like finding theirs, with Galatasaray's close man-marking keeping them quiet and Cantona taking his frustration out on referee Kurt Rothlisberger, who sent him off at the final whistle.
Cantona was escorted from the field by police and that was when hell really did break loose, with the French striker, Bryan Robson and Paul Parker among those to be punched and hit by policemen's shields.
"It happened a lot in Turkey then," Milne said. "Again, United would not have understood or expected it because they were in and out of the country so quickly, but I know the pressure that both parties were under.
"It took me a long time to realise how it worked and that the police had a difficult enough job because they went into the crowd and would get hit themselves.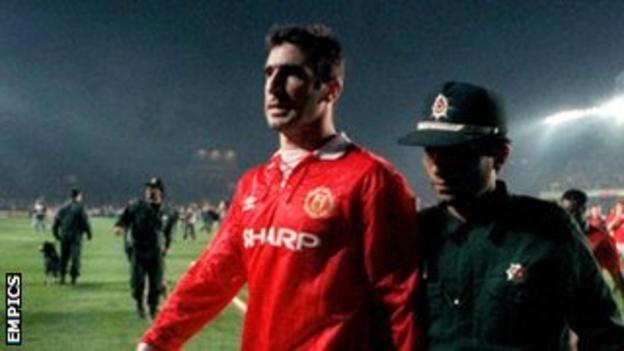 "Cantona being a bit hot-headed was dangerous because, if you reacted in the wrong way, then the police would whack you and not give a monkey's if you were a player or not."
In the aftermath, Ferguson vowed never to go back to Istanbul, but he would actually return to Galatasaray the following season - again in unhappy circumstances. United had made the group stage on that occasion but another 0-0 draw was part of the reason they would progress no further.
A lot has changed since then. For starters, United are through to the last 16 of this season's Champions League and they will be glad to know that the Ali Sami Yen Stadium is no more - it was demolished when Galatasaray moved to the 52,000-capacity Turk Telekom Arena in 2010.
The country has moved on too. Milne, whose son married a Turkish girl, is still a regular visitor and was back at the weekend to watch his old side Besiktas beat Antalyaspor 5-3.
"Turkey has developed tremendously in the last two decades," Milne said. "Istanbul is more of an international city than it was in 1993, when things were quite insular. The younger generation are far more modern and United will not get the same hostility this time."