Talking Tactics: Red card allows Sunderland to end scoring drought
Last updated on .From the section Football

In his regular BBC Sport column on football tactics, Robbie Savage takes a closer look at Sunderland's 3-1 win over Fulham.
The Black Cats have been poor up front all season and, with only seven goals from their first 10 games, were the lowest scorers in the top four divisions of English football going into the match at Craven Cottage.
Their lack of ideas in attack was evident until Fulham centre-back Brede Hangeland was sent off on the half-hour mark.
Only then did Sunderland open the Cottagers up and, although it could well kick-start their season, this was a victory that still leaves some unanswered questions about Martin O'Neill's side
SURPRISED BY SHOT-SHY SUNDERLAND
When it was 11 versus 11, Sunderland just never looked like scoring and it was easy to see why.
They were not getting the ball to their wide men to get crosses in and, when they did get the ball to their lone striker Steven Fletcher, they were not getting enough men forward to support him.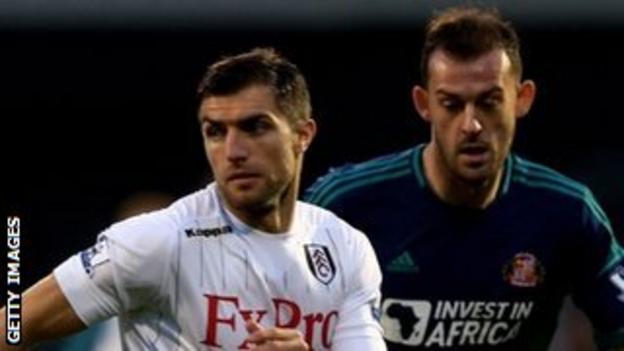 Fletcher did not get a single shooting chance but nobody was helping him, wherever he was on the pitch.
He is a threat in the air when you send crosses in but that was not happening and, when he had the ball on the ground, there were no runners going in front of him from midfield either.
And Stephane Sessegnon, who was playing behind him in the hole between midfield and attack, was not close enough to either Fletcher or the men behind him to provide any link-up play.
It was surprising to see how bad they were because, when you look at this Black Cats team, it contains all the components that have worked well for O'Neill in the past.
I know his teams well, from playing under him at Leicester City and against him when I was at Blackburn and Derby County, and he has never struggled for goals before.
Those sides were based on team spirit and work ethic but with the ability to break with pace and get crosses in.
There is always a bit of flair and some creativity in there too.
But, essentially, O'Neill loves a team with a big target man and a wide man to feed him.
When I played under him at Leicester, we had Emile Heskey and Steve Guppy. At Celtic it was John Hartson and Guppy then Aiden McGeady, and at Aston Villa John Carew and Ashley Young.
This Sunderland side have got Fletcher up front and Adam Johnson on the wing, with Sessegnon providing more skill.
So they are a typical O'Neill team, with plenty of ability, but the different elements are not adding up into a cohesive side.
RED CARD GIVES BLACK CATS A BREAK
Things really conspired against Fulham for two of Sunderland's three goals, and arguably their third too.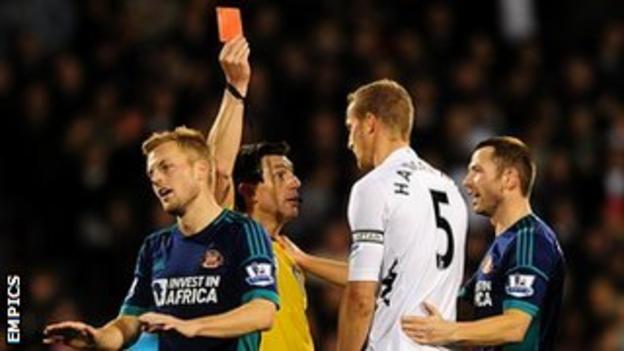 All the time you have an extra man means you have a better chance of exposing any opposition weaknesses - especially if, like Sunderland, you can counter-attack quickly.
Fulham were short of pace at the back - the more so when Philippe Senderos came on after Hangeland's red card.
And that was exposed when Sunderland broke quickly for their first goal, although it also involved a wonderful pass by Johnson to set up Fletcher.
Things were weighted against Fulham even more for the Black Cats' second goal because Mladen Petric had injured himself while scoring, so they only had nine men on the field.
That meant, for Johnson's corner, they could not put anyone on a post to clear Cuellar's header because if they had they would only have had seven outfield markers.
They also had Steve Sidwell trying to mark Cuellar when, had he been on the pitch, that job would probably have been Hangeland's.
Having the extra man and the ability to break quickly helped Sunderland even more when they were back in the lead because Fulham were never going to sit back.
Sessegnon's third goal was a piece of individual brilliance that the Cottagers could do little about but, again, it came on the break.
The worry for O'Neill, however is that Fulham were still causing his side lots of problems and his goalkeeper Simon Mignolet had plenty to do.
It might be a bit harsh to say they would not have won without it, but Hangeland's red card definitely papered over some of the cracks in Sunderland's team.
CONFIDENCE BUILDER, NOT TACTICS TALKER
People were saying that Sunderland have looked short of confidence because they were on such a bad run of form, but that is never a problem under O'Neill.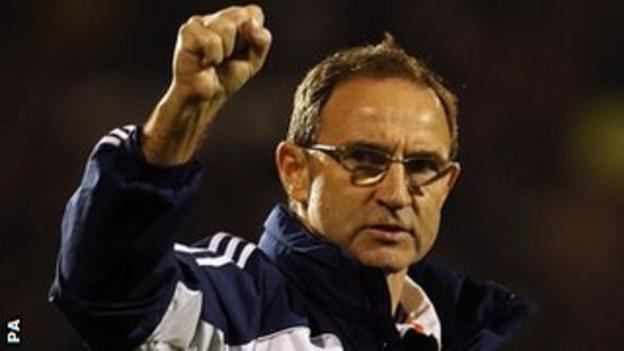 His right-hand man Steve Walford is probably the guy who does more tactical work with the players on the training ground.
But O'Neill is the man who silences the room when he walks into it.
When he talks to you it is like having your dad tell you off when you are a youngster or when you are shy in school and your teacher asks you a question, then when you get it wrong you get all red and flustered.
It is bizarre to experience it. You could ask any of his ex-players exactly what it is that he has got and they cannot explain it.
It is incredible to witness but he just has that aura about him.
He is a tremendous manager and an incredible man. When I played under him, he made me into a man.
Whether he thought you were a strong character or an insecure person he knew exactly how to treat you to give you a boost.
I know that, even with Sunderland struggling, he will have been lifting his players.