Reading owner Anton Zingarevich has 'total faith' in Brian McDermott
Last updated on .From the section Football88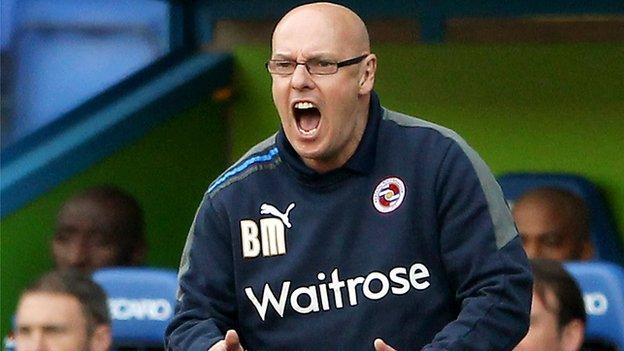 Reading owner Anton Zingarevich says he has "total faith" in manager Brian McDermott and believes he is the right man to keep them in the Premier League.
The Royals beat Everton 2-1 on Saturday for their first win of the season after an indifferent start to the campaign.
But despite reports linking PSV Eindhoven coach Dick Advocaat with McDermott's job, Zingarevich remains confident in his manager's ability.
"I have total faith in him. I'm sure he is the man for the job," he said.
"I'm sure he can become a very good manager in the Premier League."
Zingarevich dismissed the Advocaat link as just "speculation", calling it "nonsense" and revealed McDermott had been "irritated" by the story.
He added how much he admired and respected his manager - who last season guided the Royals into the Premier League following their play-off defeat the season before.
"I think he has the right characteristics to be a manager," he continued.
"You can be a good coach but it's about being the right manager. The way he handles the group and the spirit they have, the manager is a key person in all of that process.
"To be a good manager you need to be a good psychologist and he is, that's the key. From the first meeting I understood that."
Russian businessman Zingarevich completed his takeover of Reading in the summer and has already invested heavily in player recruitment.
But despite his financial backing the 29-year-old says he has realistic expectations for this season and will be patient in waiting for success.
However, he has promised there will be funds available in January should McDermott want to add to the squad.
"We've showed like last season, when we needed to strengthen, we know what we needed to strengthen and we did so," he said.
There were reports in Russia that Zingarevich was preparing to bring in up to 10 new players in January, one of which was Arsenal forward Andrey Arshavin.
But Zingarevich says his comments were taken out of context and lost in translation.
"What I really said is that I was asked the question about Arshavin, 'what do you think of him as a player?'," he said.
"I said he's a good player. I was asked if we'd be interested in him and I said if he's available like 10 or 15 other players who will be in the winter, we'll sit down and discuss. But I never actually said that we are interested in signing him.
"In terms of players, it's a collective decision but it's the manager who has the last word."
Despite being in control at the Royals for just over six months, Zingarevich says he has a clear vision of how he wants to expand the Berkshire club - who on Saturday welcomed a record crowd to the Madejski Stadium.
"Today the stadium is full so at some point we need to expand it. It won't be tomorrow, but within five years we need to," he said.
"Also we need to improve some of our internal infrastructure, our training ground, so there are those basic things. Lately all the clubs are into that."