Greg Abbott: Carlisle United are 'too nice'
Last updated on .From the section Football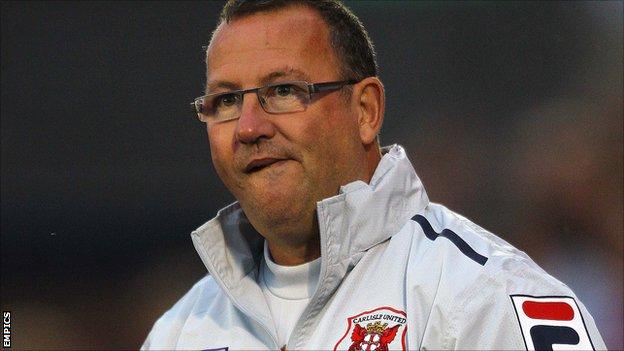 Carlisle United manager Greg Abbott has said his side lacked the aggression to counter Leyton Orient in
United, who dropped to 18th in League One with the loss, took the lead before conceding four goals without reply.
"We are far too nice, we haven't made any decisive tackles or blocks," Abbott told BBC Radio Cumbria.
"It is very difficult for me to do anything about the type of goals we have conceded."
Abbott added: "To dominate football matches you have to dominate your opponent, and I think from one to 11 we probably had two even performances in terms of individual against individual.
"Nine of our players out of the 11 lost and that is just not good enough."
Saturday's defeat marked the third time this season that Carlisle have conceded four goals on home turf, after heavy defeats against Notts County and Bournemouth.
The poor home form has seen attendances slide from the 5,120 who attended the Portsmouth game in late August to under 4,000 fans for the Orient set-back.
"It will take time for us to buy that [fans' trust and support] back. Whatever you are saying at the moment I just have to take it on the chin," Abbott responded to the question about attendances.
"The players are unbelievably behind what we are doing, they are such a tight group.
"Today they have put in a really poor performance but on Saturday, last Tuesday at Preston, they were dying for the cause and are really down in the dumps at the minute.
"They have feel like they have let, not me down, but let themselves down, let the club down and let the supporters down.
"It is one of those things that you have to take on the chin, deal with it and crack on with it."