AFC Wimbledon fans resist MK Dons FA Cup boycott
Last updated on .From the section Football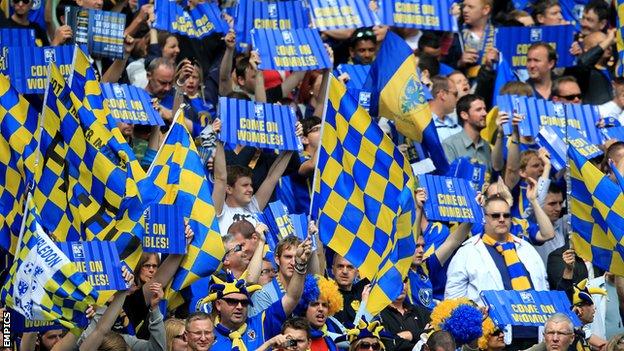 An AFC Wimbledon supporters' group has stepped back from a boycott of the club's FA Cup match against MK Dons.
The club have already stated they will not accept any boardroom hospitality from MK Dons.
Emotions remain raw after the original Wimbledon club relocated to Milton Keynes and changed their name but kept the 'Dons' from the old nickname.
Group chairman Simon Wheeler told BBC London 94.9: "Individual supporters must make an informed decision."
The tie will be played on Sunday, 2 December.
In a statement, the Wimbledon Independent Supporters Association said: "We are naturally disappointed that AFC Wimbledon will have to play Milton Keynes, a football franchise, that stole Wimbledon's original league place, in the second round of the FA Cup.
"After careful consideration, WISA has decided not to formally request a boycott of the fixture by Wimbledon supporters."
He explained: "This is a fixture that very few Wimbledon supporters want.
"We don't see this fixture as a big grudge or rivalry match, but as one that should never have been allowed to happen.
"This fixture is a result of AFC Wimbledon's phenomenal successes over the last 10 years and must be incredibly embarrassing for those in Milton Keynes to be involved in.
"It's down to individuals to make their own decision about whether they travel to Milton Keynes. No-one will be ostracised or anything like that if they do."