Fabrice Muamba says he could resume playing career
Last updated on .From the section Football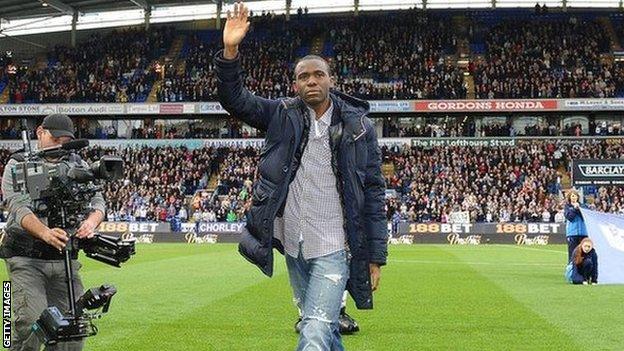 Fabrice Muamba says there is a chance he could play football again, but only if he is given the all-clear to resume his career by heart specialists.
five months after while playing for Bolton at Tottenham.
But he told BBC Radio Manchester that he could make a remarkable return.
"Maybe in two years, if I go for a check-up and my heart rhythm comes back to normality, we'll see if anyone wants to take me on," said the 24-year-old.
"I really don't know [if it will be possible to return]. It all depends on my heart rhythm and how it heals.
"If it comes back to normality, we'll see what the specialist says regarding me playing again. But at this present moment, I just have to take it easy and spend time with my family."
following his collapse on 17 March, and the as the DR Congo-born midfielder fought for his life.
He was less than a month afterwards, but Muamba was advised to quit on medical advice.
Recalling the incident at White Hart Lane, Muamba said: "On the day, I was fine. There was no heart problem, no irregular heartbeat - there was nothing like that at all. I was in the right condition and I was looking forward to playing the game.
"Just before the incident, I felt kind of dizzy and couldn't concentrate. My mind went into a different mode and, all of a sudden, I lost control. My heart just stopped and I fell down.
"I wasn't aware of anything at all. It wasn't until I woke up on the Monday or Tuesday that I understood what was going on. I was very shocked because I wasn't expecting to be in hospital."
While he acknowledges that he is it was the passing of Livorno midfielder Piermario Morosini, who in April, that truly gave Muamba a fresh perspective on his own recovery.
"I couldn't believe that could happen to me, but then when it happened to Morosini in Italy, that's when I realised how big an issue it was," added Muamba.
"He didn't survive and I survived. I just have to be grateful for the life that I've got now."
Despite his career ending prematurely, Muamba is able to reflect on his achievements in the game, including representing England at various youth levels, winning promotion to the Premier League with Birmingham City in 2007 and playing more than 150 times in the top flight.
"I've lived most people's dream by playing football," continued the former Arsenal youngster.
"I've played in the Premier League and the Championship. I've played for the national team from Under-16 to Under-21, I played at the Under-21 Championship twice and I played in the FA Cup semi-final.
"I'm grateful for it all. I can hold my hand up and say I tried my best."
You can hear an extended interview with former Bolton Wanderers midfielder Fabrice Muamba on BBC Radio Manchester's "In The Spotlight" programme from 18:00 GMT on Thursday, 22 November.
It is also available online for the subsequent seven days.