Hearts: Edinburgh club reject offer by Angelo Massone
Last updated on .From the section Football4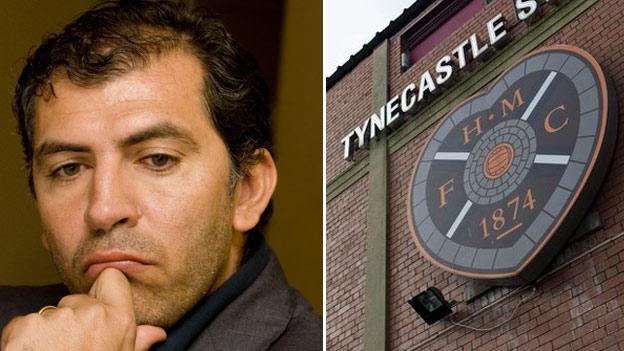 Hearts have rejected an offer from former Livingston owner Angelo Massone to buy the Edinburgh club.
The bid was received last week but the board at Tynecastle "feels the Italian may not be the right person to take the club forward".
"We received an offer from Mr Massone but it has been rejected," said a club spokesperson.
Massone later told BBC Scotland that he had tabled £4.5m and that his ultimate goal was to hand control over to fans.
Massone, who owned Livingston for a year until 2009 has recently been linked with Scottish Premier League clubs Kilmarnock and St Mirren.
"I started to speak with Supporters Direct eight months ago to discuss the possibility of being involved in Scottish football again," explained Massone.
"But just to work with an organisation that involved supporters.
"My project is to buy one club, create a democratic board with the fans and then after three or five years give the club 100% to the supporters."
Massone left Livingston in administration and close to going out of business.
The West Lothian club survived but were demoted from the First Division to the Third Division.
"I lead a consortium of investors, Angelo Massone is not important right now," he added. "It's not about me owning Hearts."
However, Hearts appear to be wary of the Italian's track record.
"We are aware of Mr Massone's previous involvement in the game in Scotland and the board has decided not to pursue his offer any further," the Hearts spokesperson added.
"In the view of the board, the bid he made also undervalued the club. Vladimir Romanov remains willing to discuss the sale of Hearts to anyone with a genuine interest, and ability, to take the club forward.
"Bidders will need to provide a financial offer to reflect the value of the club, be fit to run it as required by the Scottish FA and disclose their plans going forward.
"They will also have to provide guarantees for Hearts' future to ensure the successful duration of the business of the club."
Supporters Direct Scotland have been holding talks with Hearts in relation to a proposed fan-led takeover, while a "note of interest" from the Foundation of Hearts consortium led by businessman Alex Mackie has been dismissed.
Romanov put a £50m price tag on the Edinburgh club last year and the club have agreed an extension with Her Majesty's Revenue and Customs that will allow the club further time to pay an outstanding tax bill.
The arrangement allows Hearts to pay the £450,000 bill in two instalments and lifts the immediate threat of closure facing the club.