Europa League: Pavel Srnicek dreaming of Newcastle tie
By John Bennett
BBC World Service Sport
Last updated on .From the section Football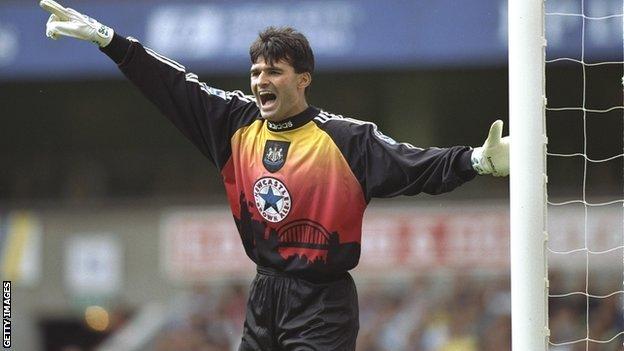 Pavel Srnicek can't stop smiling when he remembers his days as the number one at Newcastle, especially when the conversation turns to a certain Faustino Asprilla and - believe it or not - the Colombian's talent as an impressionist.
"Once Tino walked into the dressing room pretending to be Kevin Keegan," Srnicek told BBC Sport of the striker who played for Newcastle between 1996 and 1998.
"He started announcing the team, going through all the numbers. And when he did this, Kevin was standing right behind his back. We're all falling about laughing. He turns around, looks at the gaffer but just carries on.
"Asprilla had this character, where he didn't give a monkey's about anything. He just wants to enjoy life, that's his character."
Srnicek had two spells at St James' Park but is best known for the 149 appearances he made for the club during the 1990s, as Newcastle progressed from also-rans in the second tier to title contenders in the Premier League.
"I was very young when I joined the club - the communist regime had just ended in the Czech Republic, and I left just after this," said the 44-year-old.
"I came to a new country, didn't know the culture, the life, the language and I had my family and a three-year-old daughter with me. It was a really hard beginning.
"But the longer I stayed at Newcastle, I loved it more and more.
"It was fantastic when we were fighting Man Utd for the title. Then there was the camaraderie between all the people who worked in the club at that time, which was fantastic."
Srnicek is now working as the goalkeeping coach at Sparta Prague in his home country.
The team have performed well in the Europa League this season - defeating Feyenoord over two legs in a qualifier and beating last season's runners-up Athletic Bilbao 3-1 in the group stage - so Srnicek is already dreaming of a return to St James' Park in the later rounds.
"Coming back to Newcastle with Sparta Prague would be fantastic for me and we have a good opportunity to make it to to the next phase," he added.
From his home in Prague, Srnicek still watches many of Newcastle's Premier League matches and keeps in touch with long-serving fellow goalkeeper Steve Harper.
He's also been keeping a close eye on the club's current number one Tim Krul.
Srnicek believes the Dutchman could become one of Europe's best keepers, if he doesn't get carried away by some of the praise he has received over the last 18 months.
"When I was at Newcastle the last time, during the 2006/07 season, Tim was a young one and we lived on the same floor in digs because I was there for just one year.
"I know Tim from that time and beside him at the club was Fraser Forster, who is now playing also very well for Celtic.
"For me with young goalkeepers you have to look at it year by year. Where you are now and where you are next year.
"It's the same with Tomas Vaclik, the goalkeeper here at Sparta Prague. Last year he played for the bottom-of-the-table team in the top division in the Czech League. And last week he was playing number one for the national team, deputising for Petr Cech.
"But I tell him to be careful because you have to look year by year, don't look at the heights too much, just look at what you've done over the 10-month season and then continue like this.
"I think this is the same thing with Tim Krul. He's done really well but you hope he just keeps going and keeps his feet on the floor and continues because he's got big potential."
Srnicek will be back in Newcastle next month to watch the home match against Manchester City on 15 December and catch up with some of his illustrious former team-mates.
"It's difficult to say who the best player I played with at Newcastle was," he said.
"David Ginola was fantastic when he arrived; the first six months were fantastic for him. Then there's Asprilla as well but the best? That would have to be Alan Shearer.
"During your career you meet a lot of people and you play for a lot of clubs but not many can stay in your heart. Newcastle will always be in my heart."