Exeter City's Steve Perryman says he almost died after heart problem
By Brent Pilnick
BBC South West Sport
Last updated on .From the section Exeter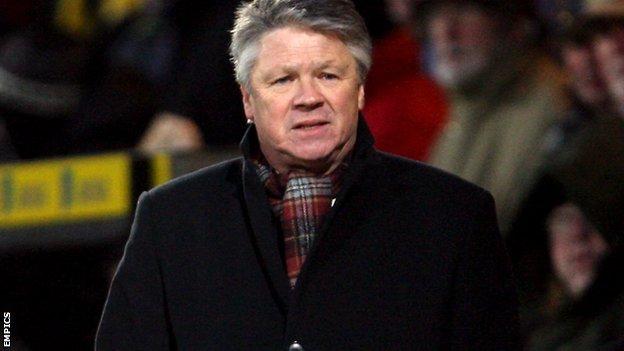 Exeter City director of football and former Tottenham midfielder Steve Perryman says he probably would have died had he suffered his heart problem away from St James Park.
He had emergency care at the ground before going to hospital in Exeter.
The 60-year-old was then air-lifted to Plymouth's Derriford hospital for life-saving surgery to repair the problem.
His situation echoes that of Bolton's Fabrice Muamba, who survived after collapsing on the field during a Premier League game at Tottenham.
"My wife and girls were in London at a christening, so if it had happened on Friday night, Saturday night or Sunday morning, I'd have been on my own, put myself to bed thinking 'I'm not feeling great' and that probably would have been the end," Perryman told BBC Radio Devon.
Perryman's torn aorta meant that blood was leaking from one of his main arteries into his body - and he knows he is lucky to be alive.
"Sixty per cent don't make it to hospital, and of those that do, only 5% make it.
"The odds were definitely against me and apparently 15 years ago you wouldn't have had any chance to survive it."
Perryman had taken his usual place in the stand for Exeter's final game of the season in League One when he started to feel unwell.
"I had a pain in my chest and I realised that it wasn't indigestion, it was a devious pain, so I quickly knew I needed help.
"Andy Tilson (Exeter's reserve team manager) was a few steps below me in the grandstand, so I tried to go down the steps to tap him on the shoulder, and when I did my legs gave way.
"He then ran down the touchline who got the doctor who got me rushed to hospital."
Perryman, who held the record for the most appearances in English football's top flight until it was broken by Ryan Giggs last season, spent and
He is not allowed to do any lifting or strenuous exercise as a result of his illness and says he is intent on improving his lifestyle to keep himself in shape.
"Having been a player and fit all my life, the main part of my game was to get around the field.
"So when I finished I wasn't going to go for five-mile runs, my days of doing that were done.
"But because of that you become unfit, put on too much weight, and have the stresses of any job, let alone football. Your body's got to cope with those things.
"I'd be stupid not to improve on those aspects where I've got weaker.
"I'm not running up hills or for the bus or train anymore, if the train or bus goes, it goes."
But Perryman says the illness that nearly claimed him has not totally changed his outlook on life.
"It's not going to give me a new perspective on life, it's not that deep.
"I'm a person that gets onto the next thing and I've been through a bit of a problem and got through it and am going to live the rest of my life now.
"When I was in hospital my wife kept my mobile phone away from me, but she did bring it in to show me some of the messages I had.
"There were text messages and emails that were sent from people close to me, these were people like Jimmy Greaves, Pat Jennings and Alan Gilzean, top quality people.
"But when top quality people contact you and tell you how much they care about you and how shocked they were, the problem with all of us is that when we die everyone speaks well of us.
"I've had the opportunity to read those things and hear those things having survived.
"It's a bit of a waste when you're dead, people making those comments, so perhaps when it eventually happens they'll just keep quiet."