Casey Stoney: England & GB captain looks to Euro 2013
By Owen Phillips
BBC Sport
Last updated on .From the section Football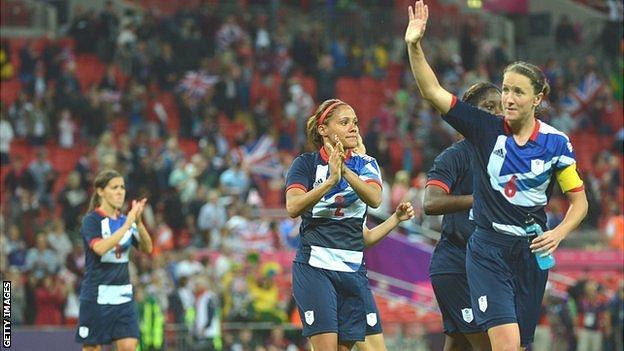 Top-class sport is littered with examples of stars suffering setbacks on the road to success. Football certainly has more than its fair share.
But England women's captain Casey Stoney's snub as a football-mad 10-year-old was a little bit different.
Unlike Ruud Gullit's rejection by Arsenal as a teenager and Sheffield Wednesday's reluctance to offer Eric Cantona a contract, it had nothing to with ability, the perceived lack of it - or indeed a questionable attitude.
"I couldn't play," Stoney told BBC Sport. "The boys team wouldn't let me play. There was no law against it, but the manager said: 'No, she can't play because she's a girl.'
"I ended up moving and playing for a boys' team and winning players' player of the year as well."
Fast forward 20 years and another individual award - the Football Association's International Player of the Year - has rounded off the most incredible and unforgettable 12 months in Stoney's impressive career.
In the summer, the 30-year-old captained the women's Great Britain Olympic team to a magical 1-0 win over Brazil in front of more than 70,000 fans at Wembley.
But as well as the the honour of skippering her team at a home Games, and being recognised by her peers, Stoney also led the England team as they secured their place at Euro 2013.
"I've had plenty of time to reflect," she said with a huge grin. "I do a lot of school visits and talks and have a lot of long journeys to do, so have had plenty of time to think about things. It's been the best year of my life and I don't know if I will ever top it.
"Winning a major tournament at international level would top this year, but to be able to play in an Olympics in my home country and lead out my team, be captain of England and, on the back of all that, get voted for by my team-mates as international player of the year is quite incredible.
"It's getting your head around it. I've worked hard for many years now but it all seems to be coming together at once."
Now Stoney's focus is on seizing the chance to take women's football to a new level.
The Lincoln Ladies centre-half is as determined as ever to change attitudes, promote the women's game and build on the undoubted impact of Team GB's march to the Olympic quarter-finals.
Stoney, who was born in Essex, strongly believes everything is in place to capitalise on the sport's growing popularity.
"If any sport has had a legacy from the Olympics, I definitely think it would be women's football," she said.
"Even if it's just perceptions that have changed, that for me is a legacy - and that definitely happened.
"So many people speak about women's football in a different vein now. People that respect the game and figures high up in the male game are now saying nice things.
"I read a quote from Bobby Charlton saying: 'I never gave the girls the respect they deserved but watching them against Brazil they have been fantastic.'
"A lot of people watched it who had never watched it before.
"And it's all because it had a platform that it never had before. We haven't suddenly changed overnight and became something we weren't before; it's just had the right platform and we performed on it."
At Euro 2013 England's women will get the perfect chance to show the new-found popularity was not simply down to the euphoria and feel-good factor of a never-to-be-forgotten summer of sport.
Stoney believes the tournament in Sweden, which will be shown live on BBC television, provides a glorious opportunity.
She knows they must also take advantage off the pitch, but says success is the easiest way to ensure the game - which now has more than a quarter of a million women playing every month in England - continues to grow.
"We have qualified for the last four or five major tournaments but I think in the past five years we have really started to hit our peak," she said. "In 2007 we were bit unlucky in the quarter-finals against the United States. In 2009 we reached the European Championship final.
"We are pushing on every year. We have beaten the US and Japan, who went on to win the World Cup. If we can have success, hopefully it will filter down.
"It's the fourth-largest team sport after rugby, cricket and men's football. It just shows where it has come in the last 15 years or so. That's not a long time, but it has grown so much.
"The standards are improving. I look at 15- and 16-year-olds and I think 'thank God I am retiring in five years' because some of them are frightening."
The next generation is certainly on Stoney's mind. She works for the Youth Sport Trust as an athlete mentor, she is taking her coaching badges and has passed her Uefa B licence. She also trains Lincoln's under-17s side, and is eager to pursue a coaching career when she stops playing.
But before the next stage of her career, she has international success on her mind.
"I am more determined to win things than ever," she said. "There's has been a lot of heartache for me and when we lost to Canada [at London 2012] I was absolutely devastated.
"We get so far and then we lose and it's time to take that next step now. We have the ability, the skill and I think a lot of it psychological. It is a matter of convincing ourselves.
"We have to be physically, tactically and technically equipped. In tournament football you also need luck."