Botswana to decide on Tshosane's future this week?
By Mtokozisi Dube
BBC Sport, Gaborone
Last updated on .From the section Football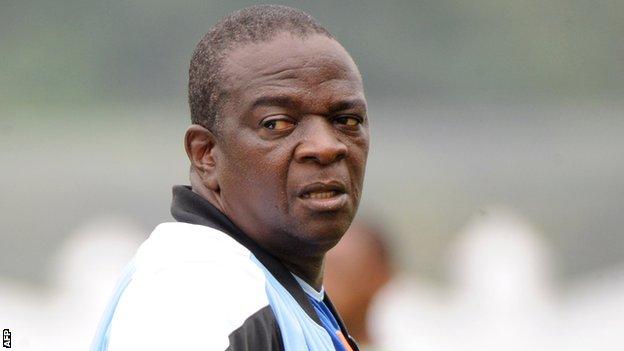 Botswana coach Stanley Tshosane may finally discover his fate later this week amid growing speculation that a deal is being sought to get rid of him.
BBC Sport understands that the Botswana FA is meeting to discuss a financial package which would satisfy Tshosane, who has more than two years to run on his contract.
The Botswana FA fear firing the coach, as the money needed to buy out the remainder of Tshosane's contract could potentially bankrupt them.
Calls for Tshosane to go have been growing louder and louder, ever since Botswana failed to qualify for the 2013 Africa Cup of Nations.
Botswana lost 7-1 to Mali on aggregate in the final round of qualification.
The uncertainty has been dragging on for some weeks. Last month, Tshosane told the BBC: "If the BFA feels I have failed, I should be told to leave and I will just say 'thank you very much' and leave."
Tshosane, who led the southern African country to their first-ever Cup of Nations earlier this year, signed a three-year contract to continue as coach as recently as April.
Seven months on and the 55-year-old now appears to be surplus to requirements.