Ebbsfleet United chairman McQueen calls for talks on future
Last updated on .From the section Football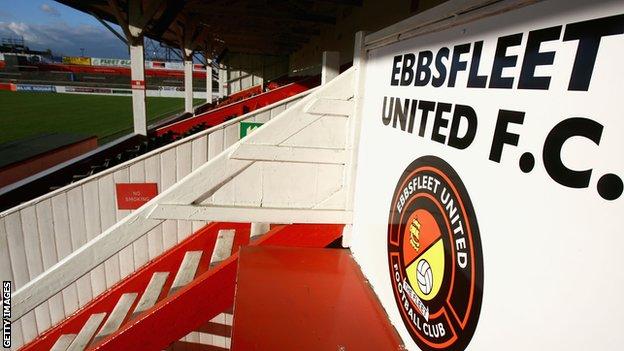 Ebbsfleet United chairman Jessica McQueen says discussions must be held about the future of the club.
She told BBC Radio 5 live's Non League Show: "I want everyone to think long and hard about what they think is best for the football club.
"The owners would admit that they have lost members and don't have money to put into the club going forward."
She added: "There have been some really well-meaning people who have put a huge amount of money into the club.
"But there comes a stage when everyone has to say, 'Is this now in the best interests of the football club?'
"I am not the owner and it's not a decision I can make.
"MyFootballClub have to make those decisions themselves."
Last week, the Fleet Trust - the Kent club's supporters' trust - issued a statement saying they were "concerned about the viability and sustainability of the football club under its present ownership".
It added: "The Trust Board would ask the MYFC members to consider their continued ownership of the football club and explore any opportunities to improve the current situation."
The Fleet currently lie 19th in the Blue Square Bet Premier table, just one point above the relegation zone.
"The football club is doing its very best to keep itself going and making a really good fist of it," McQueen said.
"At the end of the day, we all have to start looking at how we are going to make Ebbsfleet go forward.
"The statement came on the back of quite a few comments on the owner's [website] forum and the local Ebbsfleet forum.
"It coincided that the Fleet Trust had one of their monthly meetings and decided to put this statement out hoping they would rally everyone, including the owners, to make the decisions that were right for the football club.
"No-one is bigger than the club and it is the club which needs to be looked after, not the individuals who are arguing on both sides at the moment."
McQueen is confident that manager Liam Daish, who has been in charge of the club for seven and a half years, will help the Stonebridge Road outfit to progress.
"We have been in precarious situations before. We've got a great manager, a great team and a great set of supporters," she continued.
"We will keep going and get through this sticky spell but there has to be some hard thinking about the long-term of the football club.
"We can't go lurching on forever.
"We have regular board meetings and will be due one within the next 10 days and I am sure we will be talking about this then.
"I hope whatever decisions are made are in the best interests of Ebbsfleet United, rather than individuals."