Roberto Di Matteo finds trophies are not enough at Chelsea

By Phil McNulty
Chief football writer
Last updated on .From the section Football260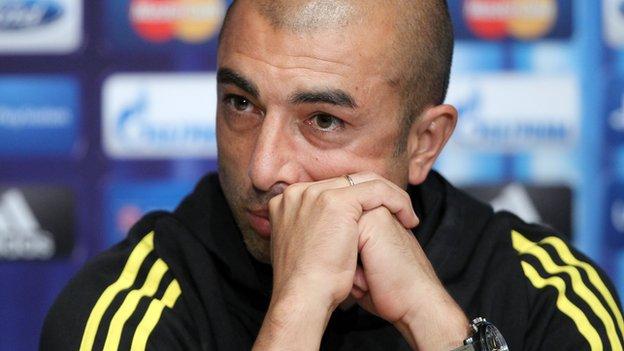 Roman Abramovich was the man who craved the Champions League above all else. Now the man who delivered it to him has brutally discovered Chelsea's Russian owner always wants more.
As Roberto Di Matteo contemplated his sacking on Wednesday morning, the golden moment in May when he had Abramovich on one arm and the biggest prize in European football on the other in Munich's Allianz Arena seemed an age away.
Even by Abramovich's own peerless standards, the decision to dismiss a manager who won the FA Cup and the Champions League just six months ago is a ruthless one.
And yet perhaps the signs were in place for Di Matteo even in those moments just after Chelsea finally claimed the trophy Abramovich wanted most by beating Bayern Munich on penalties in their own spectacular arena.
Most grateful owners would have met Di Matteo with a plea to instantly sign a new contract. Instead, even though Bayern were beaten on 19 May, it was 13 June before the Italian was finally given a two-year contract as reward for his work since succeeding another of Abramovich's managerial victims, Andre Villas-Boas.
It was the most obvious indication that, for all Di Matteo's brilliant work in healing the wounds of the brief Villas-Boas era, he was merely a stop-gap until Abramovich could engineer the appointment of the man who appears to be his first footballing love: former Barcelona coach Pep Guardiola.
Once Abramovich was convinced Guardiola could not be tempted away from his sabbatical last summer, the job was Di Matteo's, and for a while it was a decision that looked to be a good one.
Chelsea's farewell note to Di Matteo - presumably they keep these things on permanent file and simply alter the name of the latest casualty - announced: "The team's recent performances and results have not been good enough."
This is certainly true, but in fairness to Di Matteo, it should have added "for the last four weeks".
It was only on 20 October that I witnessed Chelsea produce an exhilarating performance to win 4-2 at Tottenham. They were top of the Premier League and Di Matteo appeared to be producing the sort of shift in footballing emphasis Abramovich wanted.
Chelsea's win was built around summer signings Eden Hazard and Oscar, dovetailing beautifully with Juan Mata. Maybe not quite the "Barcelona In Blue Shirts" of Abramovich's dreams but thrilling stuff nonetheless and a world away from the pragmatism of earlier eras.
Di Matteo has discovered, though, that Abramovich's approval can be fleeting and a run of poor results, starting with a Champions League defeat in Ukraine against Shakhtar Donetsk and the highly-contentious loss to Manchester United at Stamford Bridge was effectively the beginning of the end.
The manner of the 3-0 loss to Juventus in Turin that leaves Chelsea facing the ignominy of being the first Champions League holders to go out at the group stage persuaded Abramovich to push the button once more.
If Di Matteo wished to mount a public defence of his work, and the odds are he probably will not, he could point to some mitigating circumstances.
He was in the process of gelling a new-look team in a new style. He had also been robbed of the spine of his team through injuries and suspension. Captain John Terry, Frank Lampard and Ashley Cole had all been missing for spells.
Yes, they may be nearer the end of their careers than the beginning, but they still had important roles to play and Di Matteo would have dearly wanted the opportunity to call on them.
Di Matteo also had to cope with the poor form of his £50m striker Fernando Torres, a purchase most observers accept was a vanity buy by Abramovich himself when Carlo Ancelotti (almost a figure from Chelsea's dim and distant managerial past these days) was in charge.
Instead he is the latest manager through Stamford Bridge's revolving door, although one look at Abramovich's track record would have prevented him preparing mentally for the long-term.
Abramovich will presumably react with spectacular indifference to the criticism that will come his way, the complaints that managers are hired and fired on the owner's personal whim.
He will point out that Guus Hiddink won the FA Cup and was within an injury-time goal of taking Chelsea to the Champions League final in 2009 after taking over from sacked Luiz Felipe Scolari on a temporary basis.
Ancelotti then won the double in his first season, while Abramovich really hit the jackpot when he dismissed Villas-Boas after nine months and Di Matteo brought him the FA Cup and Champions League.
So while most conventional football fans and clubs will stand on the margins and regard Abramovich as applying the logic of the madhouse, Chelsea's supporters and the club itself may counter by claiming it is a strategy that has brought success.
And yet the question will persist. What will actually satisfy Abramovich? No one outside Chelsea knows because no one ever hears a word from their owner. If Di Matteo can be shoved unceremoniously out of the door six months after winning the Champions League, what will ever gain a full approval rating or his patience?
It is clear Guardiola is the man Abramovich wants to guide Chelsea forward in the long-term, but what if he fails to win the Champions League or has the team performing in a style that does not please Abramovich?
Would this iconic figure and hero of the Nou Camp, one of the most respected figures in world football, suffer the same fate as those before him?
The answer, on Wednesday morning's evidence, is yes. This is the fact of life at Chelsea and life under the leadership of Abramovich.