Chelsea: Rafael Benitez 'is not who the fans want' as next manager
By Emily Croydon
BBC Sport
Last updated on .From the section Football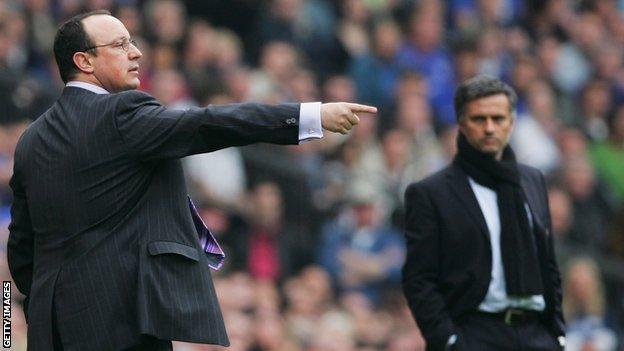 Rafael Benitez will not be accepted as Chelsea manager after he was appointed to succeed Roberto Di Matteo, according to a supporters' group.
But chair of the Chelsea Supporters Group, Trizia Fiorellino, said: "I don't think Benitez is a good manager."
David Johnstone, spokesman for fanzine cfcuk, added: "Benitez is not a Chelsea manager. He isn't what we want."
Fiorellino and Johnstone give BBC Sport the thoughts of fans after Roman Abramovich appointed his ninth manager in nine years.
On Di Matteo's exit
Trizia Fiorellino (TF)
"I expected them to give him a little longer, especially given the amount of injuries we've had and the fact we haven't had another striker. I just think it's a mad decision at a mad time.
"Chelsea pulled the rug from under Roberto Di Matteo, which was just ludicrous.
"I personally didn't agree with Di Matteo becoming manager. But they gave him the job so they should have given him at least a year. We are bedding in new players, a new style of play. You can't just take the job away from him."
David Johnstone (DJ)
"I'm not shocked. We know what the board of directors are like, they've done it before and they'll probably do it again. I'm very disappointed for Di Matteo and [assistant manager] Eddie Newton. We think they deserve to be treated in a far better fashion.
"When he was only given a year's contract people had half an idea that he wouldn't last."
On Roman Abramovich's ruthlessness
DJ: "Chelsea wouldn't be in the position they are in without Mr Abramovich, he's been fantastic for us.
"But the board of directors who work for him have to stand up for themselves, they have to stand up for the supporters and give him some better advice. We're used to it at Chelsea now."
TF: "I trust Roman because he's a winner. But I'm not sure his advisors always have the best interests of the club at heart.
"We can't build a dynasty as such, it's just piecemeal. We want longevity.
"If you're given the choice between two big clubs and one of them is Chelsea who have the propensity to sack managers at the drop of a hat, which one are you going to choose?
"We've appointed a stop-gap manager too often. It leaves us in limbo."
On Rafael Benitez
TF: "Benitez will just not be accepted by Chelsea supporters. I don't think Benitez is a good manager, he's been out of work for two years now - if he was any good why hasn't any other club snapped him up?
"Benitez has a propensity for zonal marking, which doesn't work in the Premier League. He is the wrong choice for Chelsea and the fans do not want him."
DJ: "Rafa Benitez is not a Chelsea manager. Some people are born to play for or manage certain clubs and for us, Benitez isn't what we want. When he was Liverpool manager and Jose Mourinho was Chelsea boss there was a bit of 'beef' between them.
"He was very dismissive of Chelsea, very rude towards us and my impression of him was, whenever anything went wrong, it was always somebody else's fault - not his."