Graham Westley: Referees are 'prejudiced' against Preston
Last updated on .From the section Football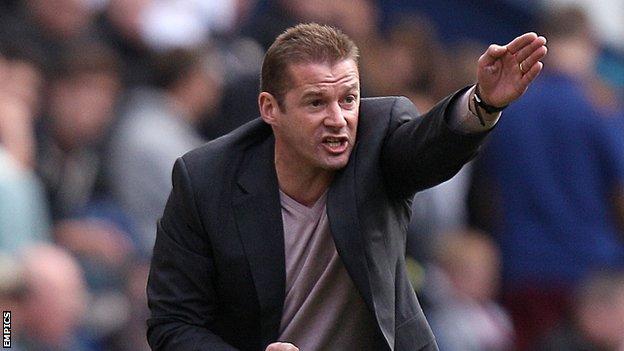 Graham Westley has accused officials of being "prejudiced" against Preston.
North End have not been awarded a penalty since 27 March and Westley believes several key decisions have gone against his team in recent games.
"It's disgraceful that prejudice should be prevalent in the refereeing ranks and that it should be communicated to our players," said the Preston boss.
"Games should be officiated on what is seen on the field, not on what someone tells people is going to happen."
Full-back Scott Laird broke his leg in
Westley described the tackle on Laird, for which Magpies winger Jamal Campbell-Ryce received a red card, as "obscene".
Notts County manager Keith Curle told BBC Radio Nottingham the tackle was not malicious.
"It was an old fashioned winger's tackle," Curle said. "It was an honest attempt to stop the cross and I think the lad has kicked his leg. I don't think there was malice.
"It wasn't a dangerous tackle. Jamal just tried to stop the cross. If you look at it in slow motion, the lad's crossed the ball and as he has followed through, he's hit Jamal's leg."
The incident further angered former Stevenage boss Westley, who said in October that he was "sick to death" of constantly having to
Speaking to BBC Radio Lancashire after the goalless draw at Deepdale, Westley continued: "We scored a goal the other week and no one saw it cross the line. We're seeing penalty after penalty after penalty not given.
"[Midfielder] Nicky Wroe said to me that officials are saying 'we know what you are like'. What I want to know is - who is telling them what we are like? Why is it right for referees to come with a prejudiced mindset into games?
"I haven't seen us play a single game away from home where we have wasted time, let alone wasted time like they [County] did tonight, like Brentford did on Saturday, like Carlisle have done previously. It's boring the crowd to death.
"People have been sucked into believing that's the way my teams are. It's wrong, it's a prejudice and we're going to draw some real attention to it. All we want is fairness."